Perch, trout biting in East Bay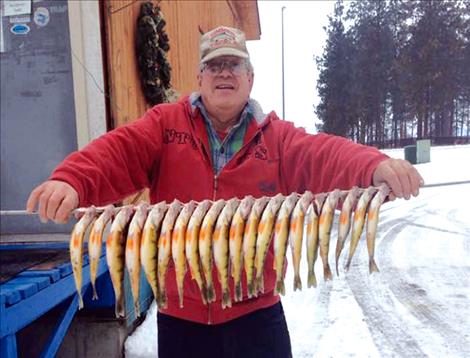 Fishermen,
Here's a nice mess of perch from East Bay. It took four trips and a couple of times being baptized to finally find them. The ice is finally consistently good from 4 to 8 inches. The perch are where they were last spring (maybe a little closer to shore). Weed beds are definitely the major key to finding a good number of fish.
From Ducharme access it is about a three-quarter to 1-mile walk at an east and a little north direction. Of all the jigs I've tried, a Double Treble Trilobite baited with one fish eye per treble works best and it has a tendency to catch larger fish.
The ice in front of the east public dock at Polson is at 3.5 to 4 inches and 50 yards north of the dock. Because the higher water and more flow the numbers of lake trout in Polson Bay are higher than I've seen in the past few years. A whole fish or a large tube jig are good bets for these fish. Lake trout are at East Bay also, there also using tube jigs and whole bait setups.
Fishermen fishing at at 43 feet of water in Lake Mary Ronan caught lots of Kokanee salmon. The fishermen wouldn't give us exact numbers — secretive sons of guns. At 37 feet, fishermen caught 15 salmon.
There's 3 feet of slush under the snow. The ice is good, but don't take an ARV out there yet.
For more information call us at 406-675- 0068 or website: , www.zimmertackle.com
Good Fishing
The MacMan