Head-on wreck leaves local man dead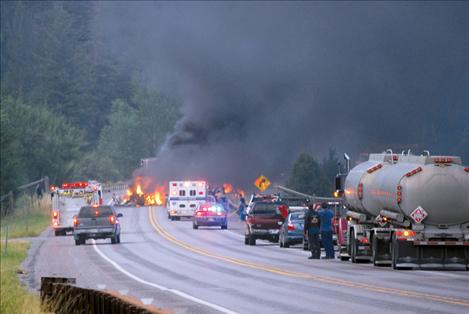 RAVALLI — The Mission Valley saw a fatal accident Monday morning at approximately 6:22 a.m. when a pickup truck collided head-on with a truck. The accident occurred in the Ravalli area on U.S. Highway 93 at mile marker 26.1, also known as the Ravalli Curves.
Responding Trooper Terry Rosenbaum said according to witness statements, the pickup was traveling southbound and drifted into the northbound lane. Seeing this, the semi driver moved into the southbound lane to avoid a collision. At the last minute, the pickup corrected into the southbound lane, causing a head-on collision that set fire to both vehicles.
"Both vehicles were fully engulfed by the time I got there," Rosenbaum said. "When you've got that much force and that much fluid, it doesn't take a lot to start a fire."
A guard rail was damaged and a small section of highway cracked due to the extreme heat of the fire.
The semi-truck was pulling an enclosed box trailer containing electrical transformers that were not active at the time of the accident and were not damaged.
Both the semi driver and his female passenger were transported to St. Luke's Hospital, examined and released later in the day, Rosenbaum said.
The driver of the pickup truck was ejected from the vehicle and killed instantly. Police have not yet released his name, but did confirm he was a 46-year-old male and Mission Valley resident.
Speed is not believed to be a factor, but alcohol has not been ruled out. Both drivers' blood was tested for alcohol per procedure.
Rosenbaum said both lanes were blocked off for nearly three hours before a single lane could be opened to alleviate traffic congestion. It took more than five hours to restore a normal traffic flow. Traffic was backed up for 4 to 5 miles in either direction.
Former Mission Valley resident Sarah Brown pulled up to the scene shortly after the accident. Now living in Utah, she'd been visiting friends and family in Montana and was trying to get home.
"It was so eerie to see the Valley fill up with black smoke like that. I felt sorrow for those involved; my heart goes out to their loved ones," she said.