Anglers with disabilities land lake trout at 24th fishing without barriers day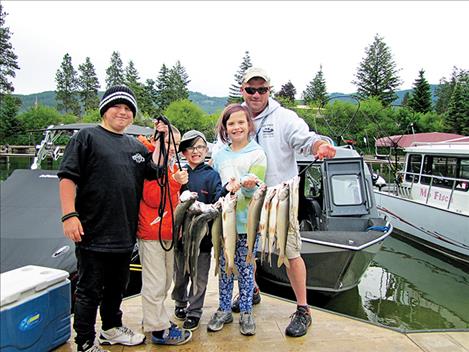 News from Montana Fish, Wildlife and Parks
A total of 84 anglers with disabilities participated in the 24th annual Jerry Howard Fishing Without Barriers Day on Flathead Lake on June 15. Anglers went out on 15 fishing boats provided by the Montana Charterboat Association and a few private craft. Charterboat captains provided their fishing boats free of charge so that anglers could enjoy a "Cadillac" experience. Anglers from 6 to 80 years of age hailed from the upper Flathead Valley, Missoula, Kalispell, Polson, Ronan, Libby, and other areas around northwest Montana.
The anglers caught a total of 61 lake trout ranging from 10 inches to about 17 pounds. Nearly every kid who went out fishing caught a lake trout, thanks to the boat captains' knowledge of the lake. Some of the youngest kids caught the most fish; a brother and sister teamed up to catch a 31-incher, which had to be released.
All boat captains volunteered their day for the event and were seen as heroes by the crowd. The largest lake trout measured about 37 inches; three more lake trout fell into the slot limit of 30-36 inches. These very large lake trout were all released.
At the post-fishing barbeque, about 250 people, including anglers, helpers, and family members, enjoyed a gourmet lunch and fish fry from lake trout fillets provided by anglers. A casting contest was popular as kids and others participated to win prizes.
Hidden Harbor provided the boat launching facilities, and the fabulous Saddlehorn facility provided the venue for the picnic. More than 45 businesses and groups contributed.
The Jerry Howard Fishing Without Barriers Day as been rededicated in honor of Jerry Howard. Jerry, the longtime citizen committee chairman, passed away last fall. Frank Landis, Jerry's son, and members of his family stepped in to organize the food, donations, prizes, logistics, and other aspects of the event. They also baked dozens of chocolate chip cookies, which have become an event trademark. Also helping were many FWP game wardens, fisheries biologists, and volunteers.
The Jerry Howard Fishing Without Barriers Day is held annually to provide an opportunity for people with disabilities to get out on Flathead Lake and enjoy fishing with the experts. For many of the anglers, it is their only fishing experience for the year. Thanks to everyone who donated and helped with the event.