Few options exist for parents battling a child's meth addiction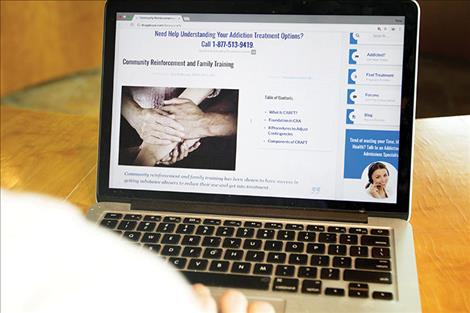 By Callahan Peel
UM School of Journalism
Celes Castrol remembers that day in eighth grade when she and her friends discovered the meth pipes in one girl's parents' room.
Castrol and her friends decided to test them out, and from that point on, Castrol was hooked. She used on and off throughout high school. Most of the time, Castrol's parents weren't aware she was using and she remembers it being easy to keep them in the dark.
Castrol's parents would often ground her, but that didn't stop her from using. She continued until she found out she was pregnant at 17 years old. She stopped using and remained clean until a year and a half after her daughter's birth. By that point she was an adult and didn't live with her parents.
Castrol, now 31, has broken the addiction cycle as an adult, but meth addictions often rip apart families, leaving parents wondering what to do for their addicted children.
With no formal options, parents of adult meth users often turn to one another for counseling, ideas and to simply vent their pain. In Montana, there is only one such group that meets in person in Helena, leaving the rest of the state's parents to find these services online, creating virtual communities of parents who look for resources and often share deeply personal stories of the toll drug abuse has taken on their families. Many of these sites offer an array of advice and ideas for parents struggling with addiction.
The Meth Action Coalition (MAC), an offline Oregon-based activism group, has worked to educate families on the warning signs of children's meth abuse. According to the group, early signs include irritability, declining grades, aggressive behavior and running away from home.
The challenge for many of these parents is deciding how much to help their children. Many give their addicted children money or a place to stay, but this can place a financial and emotional strain on families.
One father in the Bitterroot Valley has a daughter struggling with her meth addiction. She disappears in and out of her family's life. The man asked for anonymity in explaining his family's personal struggles.
He and his family have tried many different things to help their daughter. They've sent her money. They've bailed her out of jail. They also feel guilty for not catching the signs of addiction early enough for them to be able to force her into treatment.
"One of the things I would regret doing, or not doing, as a parent was not being able to see the warning signs, if there were any," the father said. "I wish I would have been able to see it sooner and been able to get her the help that was needed right away before she became this adult."
The family is still involved in their daughter's life, when she allows it. But not all parents remain active in their children's lives after they become addicted and some of those self-made self-help experts argue that helping an addicted child may simply make things worse.
Barbara Stoefen is one of those experts. She is the author of A Very Fine House: A Mother's Story of Love, Faith, and Crystal Meth and former president of the MAC. She argued the best route for parents is to let their child's addiction play out.
Stoefen's daughter started using meth in her early twenties. She was hooked for 18 months before she allowed her parents to enroll her in a treatment center. Stoefen credits a no-frills approach as the reason her daughter's addiction was relatively short.
Stoefen didn't give her daughter money. She didn't bail her out of jail. As the addiction worsened, she took back the car that she and her husband had given to their daughter.
According to Stoefen, some call this approach "tough love" but she denies it. She maintained contact with her daughter and continued to tell her that she was loved, but refused to buy into the "games" that her daughter played as an addict.
"The best chance of saving her was to let her experience it all," Stoefen said. "I let it get ugly for her."
Stoefen's daughter was arrested multiple times throughout the course of her addiction, and her family was able to use the courts as a "springboard."
But beyond the pressures of when and how to help the addicted child, addiction can put strains on the relationships within families. Many parents blame themselves for their child's addiction.
"I do believe there were some choices that her mother and I made as far as moving to a different location that I think may have led to that kind of activity and lifestyle of the drugs," the father of who wished to remain anonymous said.
Stoefen, who now speaks publicly about her daughter's addiction, said parents of addicts must take care of themselves, setting boundaries while letting the addicted child know they are loved.
This is not an unusual reaction, according to Deanna Cooper, former clinical director for a jail-based substance abuse program in San Juan County, New Mexico. She said there are many different coping methods and strategies used by family members of meth addicts.
When working with addicts, Cooper would try to involve the families as much as she could in the treatment process. She said that the success rates of the reformed addicts drastically increase if they have family support.
"We would tell clients 'you have taught your family how to treat you,'" Cooper said. "If what you have taught them is that you're not safe, and you can't be trusted, it's healthiest for them to not be involved."
Cooper witnessed varied reactions of families during her work. Not all families wanted to cut their loved ones out and not all families used a "tough love" approach.
Cooper said that there were families who wanted to help their children but ended up enabling their addiction, and there were also families who were willing to support them up until a certain point. Many times, families would stay involved until they became concerned for their safety.
"We teach families about support, but the accountability is the part that families can do a good job on. You're allowed to love them, but if it's affecting the family's safety, then the family needs to do what they can to be safe," Cooper said.
Cooper recommended that families use Community Reinforcement Approach and Family Training when figuring out how to cope with an addicted love one. CRAFT is a research-based coping method designed for families to get help regardless of the drug that their family member is addicted to.
The goal of CRAFT is to affect the addict's behavior by altering the way his or her family interacts with him or her. A manual is available online for rural families who do not have access to a treatment center. According to Cooper, CRAFT is little known in Montana, but she used it extensively during her work in New Mexico.
There are also support groups for family members of addicted people. In Montana, there is only one Narcotics Anonymous Family Group, located in Helena. But there are groups that meet regularly online.
Stoefen urges parents to take steps to protect themselves, mentally and physically.
"Mothers, in particular run themselves ragged and make themselves sick," Stoefen said. "You have to remember that you have a life outside of your child's actions."
Resources for parents include Nar-Anon Family Groups Forum with online discussions, though based in Pennsylvania, to allow parents of addicts to discuss their challenges. Community Reinforcement and Family Training, CRAFT, is a method of treatment that works with the loved ones of addicts to assist in their treatment.
(Editor's note: this story is one of a series produced by University of Montana journalism students on the impact of methamphetamine use in Montana. Additional stories from The Meth Effect will publish in weeks to come. Stories come from Fort Belknap, Lake County, Bozeman, Helena and Missoula. More from the series can be found at metheffect.com.)