Hilton featured artist of Killdeer summer show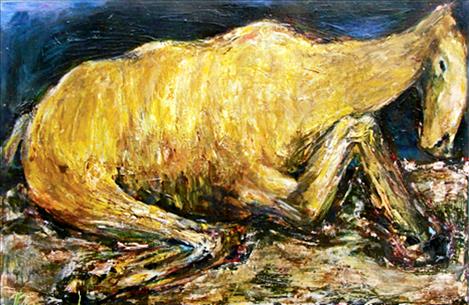 News from the Killdeer Artisans Guild
ARLEE – Jeneese Hilton is the featured artist for the Killdeer Artisan Guild's summer show.
An opening reception for the exhibition, entitled "A Journey" will be held Saturday, July 1 from noon to 2 p.m. at Hangin' Art Gallery.
Hilton, whose paintings have been described as large, vibrant and mysterious, will give an artist's talk at the opening at 1 p.m.
The summer show opening coincides with the Arlee Celebration Powwow, so come prepared for a full day in Arlee. Come meet the artists, and explore this surprising art destination located on Highway 93 North. The show will be up on June 19, and remains up until September 15.
Refreshments will be provided – and the Gallery Café' will have its usual fine soups, scones, breads, and desserts – all locally-sourced and freshly prepared.
About the artist:
Jeneese Hilton was raised by her grandfather (a good agnostic republican of English and German heritage) and her grandmother (a good Catholic democrat of Indian heritage) on a ranch on the Blackfeet Reservation where she was allowed freedom to roam and to read as well as the time to ruminate on it all. She developed independence, a love of literature and respect for nature and animals. Her upbringing greatly affected the imagery and content of her work.
After college Hilton spent three years in Micronesia with the Peace Corps and traveled and studied in the Pacific, Asia, Mexico and Europe. She also spent five years living in an Eskimo village in the Arctic. She then earned a Master of Fine Arts degree in painting from the University of Colorado. These varied experiences fed her interests in the beliefs, myths and attitudes of divergent cultures and people and particularly their relationships with all life on this planet.
Hilton's work has been featured in solo and group shows in the Northwest and Germany. She has participated in artist in residence programs, taught drawing, is involved in her community serving on the American Indian Scholarship Advisory Panel, Native American Artist Symposium and University of Montana Arts and Culture Committee.
Hilton explains that the painting process itself motivates her and has taught her many life lessons. It is a balance of having control of the process and letting go. She said "It is fun to discover unexpected attitudes within oneself through this process."