$105,000 raised for 3D Mammography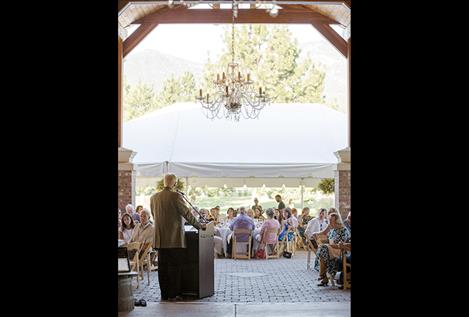 News from Providence St. Joseph Medical Center
POLSON – Providence Montana Health Foundation has raised $105,000 through a fundraising campaign to provide a 3D mammography system at Providence St. Joseph Medical Center.
At a private event held on July 13, donors raised funds for the mammography equipment critical to providing more accurate breast exams for patients. The 3D mammography system is a substantial up-front capital investment for the hospital, costing a total of $360,000.
3D mammography has the ability to detect breast cancers 15 months earlier than 2D mammography and reduces unnecessary callbacks by up to 40 percent. In addition, the machine can find over 40 percent more invasive cancers than conventional mammography. The cutting edge equipment will allow St. Joe's to take care of patients in their own community while reducing stress and costs for the patient and families.
James Kiser, Chief Executive of St. Joseph Medical Center, says, "3D mammography is quickly becoming the new standard of care when it comes to breast exams. The technology allows our physicians to evaluate breast tissue, layer by layer in full detail, producing clear results. Patients depend on St. Joe's to offer the most accurate screenings so we can detect cancers as early as possible. Early detection saves lives, and with this equipment we'll be able to provide world-class screenings right here at home—in Polson."
"The outpouring of generosity this community has offered in support of the 3D mammography system is truly humbling. So many showed their investment in healthcare excellence, and it's truly a gift to the entire region. The Foundation is proud to have led fundraising efforts to secure critical mammography equipment that will save lives here in the Flathead and Mission Valleys," said Fran Albrecht, Executive Director of Providence Montana Health Foundation.
The Foundation will continue fundraising efforts until the 3D mammography system is completely funded. If you would like to support this project, make a donation or honor someone who has experienced breast cancer, please go to www.supportpmhf.org or contact the Foundation directly at 406-883-8348.
Sponsors of the fundraising event included S&K Technologies, Glacier Bank, Red Lion Inn & Suites, Super 1 Foods, Western Montana Family Dentistry, Life Flight Network, Bea's Floral & Gifts, Thomas Cuisine/Café Dieu, Celebrate Event & Party Rental, and Whistling Andy's Distillery.
For more information, please contact Megan Beard, Development and Outreach Officer at Providence St. Joseph Medical Center, at 406-883-8348, 406-396-2549 or at: megan.beard@providence.org.