Retrial results in rape conviction for Vaughn James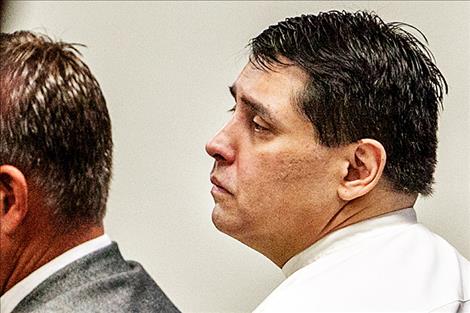 POLSON – They finally got their man.
The Lake County Attorney's Office won a rape trial last week when a seven-man, five-woman jury voted unanimously to convict Vaughn James.
James, 44, had defeated a rape charge at a June 12-14 trial when the jury split 10-2 in favor of conviction. That was the third such rape trial that James had overcome, but the fourth time had a different result.
On Thursday, James was convicted of raping a 54-year-old woman who testified at both trials. The jury deliberated two hours before reaching a verdict following a trial that lasted two-plus days.
Prosecuting attorney Brendan McQuillan said James entered a downtown Polson apartment in the early morning hours of Sept. 17, 2016 and forced himself on the victim while she was asleep.
After the trial, McQuillan said both trials were similar except that James spoke more on the witness stand last week.
"The more he tried to show he was a good guy, the more it failed," McQuillan said, adding that James said he was a religious family man.
"We got into it more in cross examination," McQuillan said.
Safe Harbor representative Jolene Schmitz said she watched most of the trial.
"Each of the (10) witnesses were examined in more depth by both sides," she said. "Mr. James wholeheartedly believes his version of who he is. The reality is he's a sexual predator. He hurts people and those closest to him."
Schmitz said James made a comment about the Lord forgiving him and receiving his forgiveness. McQuillan followed up by asking James about a tapestry of Jesus Christ that was located above the love seat in the living room of the apartment where James and the woman had sex, Schmitz said, adding that James confirmed it.
"Watching (the victim) testify again was extremely traumatizing," Schmitz said, noting the woman cried and was distraught on the witness stand.
Schmitz complimented the woman on her strength of character and perseverance. "She kept participating because she wanted him to be held accountable and to keep him from doing it to somebody else," Schmitz said. "She went through hell to save somebody else."
Defense attorney Amanda Marvin, who along with Whitefish attorney Caleb Simpson represented James, had a somewhat different take.
"This was an incredibly difficult and emotional case for everyone involved, but it was tried intelligently and professionally by both sides," Marvin said via email. "Because of the rules of evidence, we essentially had to try the case in a vacuum – meaning there were some significant details about the complaining witness that could not be shared with the jury. I think that had the jury known those details, that the result would have likely been different. We will be moving forward after sentencing with the appeal process."
Prior to trial, Marvin motioned for a change of venue based in part on a story in the Valley Journal about the June trial, which included information about James' first two rape trials. One ended in a not guilty verdict in Missoula County. The other resulted in a hung jury by a vote of 11-1 in favor of a conviction in Lake County. The alleged victim in the latter case committed suicide so the state was unable to retry the case, said James Lapotka, the deputy county attorney who tried that case.
Judge Kim Christopher denied Marvin's motion, but required the jury to be shuttled by the Lake County Sheriff's Office back and forth from Cherry Valley Elementary School to the courthouse on Wednesday, July 12. That was because of a rally planned by Brooke Swaney Pepion from 4-6 p.m. that day. It is unclear if the rally was held. According to Pepion's Facebook post that was referenced in a court document, the "Shout Out Against Sexual Violence" rally was planned "to send a message to jurors that the community does not accept this behavior."
Christopher had the jury sequestered in the courthouse on Wednesday as well.
Sentencing is scheduled for 9 a.m. Aug. 24. The possible penalty ranges from two years to life in prison and could include a fine up to $50,000.
Upon McQuillan's request, Christopher dismissed without prejudice an aggravated burglary charge against James prior to the most recent trial.
However in a separate case, James was also recently charged with possession of illegal drugs (acetaminophen and hydrocodone) stemming from June 2016.
He also faces a Sept. 11 trial for allegedly failing to register as a violent offender, a status he obtained after being convicted of robbery, theft and conspiracy in 1991 after he robbed the Polson Bay Grocery and threatened to kill a store clerk while he and an accomplice displayed a knife and gun, according to a court document.crie