St. Ignatius council hires new city attorney, attends to several issues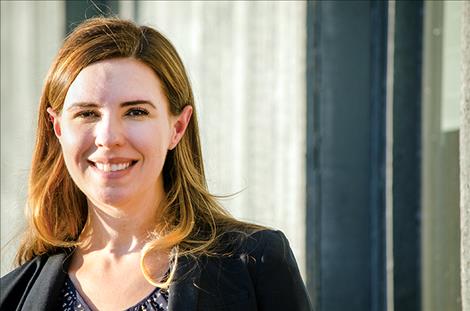 ST. IGNATIUS – During the St. Ignatius City Council meeting on Tuesday, Molly Owen was hired as the new city attorney.
Owen will continue her position as Lake County Deputy Attorney along with the new position in St. Ignatius. It is common for county attorneys to fill positions within town governments.
James Lapotka, the city's outgoing attorney, recommended Owen for the job. Lapotka is being promoted as the Lake County Chief Criminal Deputy Attorney and that position doesn't allow him to have additional jobs.
In other news, Tyler Arlint presented a new project to the council. He said a group called the Mission Walking Path is working to create a path that circles the town for pedestrians.
He said community members decided the town was in dire need of a walking and biking path after a man was killed while riding his bike on a road outside of town. "We need a safe place for bikers and walkers," he said. "It's just a matter of time before (another death) happens."
The group is currently meeting on the first Wednesday of every month at 6 p.m. in the St. Ignatius Library. They are looking at several grant opportunities and considering suggestions on the route. For more information, contact Arlint at 406-478-3440 or tarlint@gmail.com. The group can also be found on Facebook.
St. Ignatius Police Chief Matthew Connelly announced that the police department received a $4,000 grant from the National Incident Based Reporting System from the Federal Bureau of Investigation.
"We received the grant because we didn't have any deficiencies in our police records, no mistakes," he said.
The funds will be used to buy two hand-held alcohol breath analyzers, two bulletproof vests, two body cameras and uniform supplies.
Chief Connelly is thrilled to be getting the cameras to wear while on duty for himself and the town's second officer. "This will help cases out immensely," he said.
The council approved a $480 a year increase to the police budget for the cost of a secure program to store unlimited data from the new cameras.
Connelly said that he has been busy with an increased amount of traffic and people speeding. He said he has written about 40 tickets every weekend this summer. "People need to slow down," he said. He added that his biggest complaint from residents is that he isn't able to patrol past a small section of U.S. Highway 93 in town, although he can go outside of town in an emergency or if someone he is stopping travels out of the area.
The council voted to cancel one position for the General Election on November 7. Sharon Richardson was the only candidate filing for the four-year term as judge, so there was no need to put the position up for vote.
Mayor Charley Gariepy is not running again for his position after more than a dozen years on the council. Four people have filed for that position including Daniel Thompson, Daren Incashola, Willy Long, and Steve McCollum.
Roger Lemon and Daren Incashola's terms on the council will expire this year and five people are running to fill those seats including: Chris Heffern, C. Douglas Morigeau, Annie Morigeau, Roger D. Lemon, and Ralf Foster.