Aber Day Reunion concert, classic cars on tap for Summerfest weekend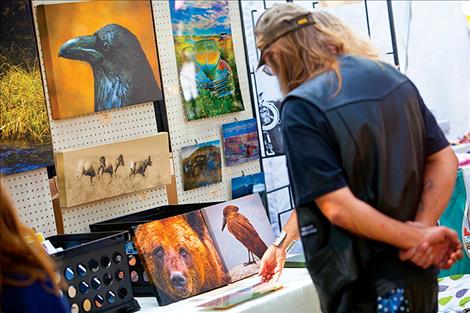 POLSON - Anderson Broadcasting is currently developing a new addition to the Polson entertainment scene. The radio network is building a new stage they plan to unveil at this year's Summerfest.
Officially dubbed the Regatta Shoreline Amphitheatre, the stage's debut show will also be Polson's first year hosting the Aber Day Reunion on Saturday, Aug 12.
"There's plenty of work to be done to make it all happen, but it will get done," Anderson Broadcasting owner Dennis Anderson said. "It's a big deal for Polson."
This year will mark the 17th annual car show and the fourth year Summerfest has been hosted by Anderson Broadcasting.
Formerly known as the Cruisen' by the Bay car show, Anderson Broadcasting took over management of the event and expanded upon it, creating a weekend Summerfest of classic cars and outdoor music.
Events start on Friday, Aug. 11, with registration for the car show beginning at noon followed by a poker run at 6 p.m. Online registration forms are available at AndersonBroadcasting.com. Then at 8 p.m. on Friday the Highway 93 band will play at the Red Lion Inn.
The Summerfest car show is 9 a.m. to 2 p.m. Saturday. More than 150 cars are expected in 12 different categories with prizes awarded to winners in each category.
The Aber Day Reunion Concert will start at 3 p.m. Saturday, gates open at noon. Tickets are on sale now: $35 for adults, $15 for ages 7 to 12 or $40 at the gate. Children age six and younger are free.
According to Anderson Broadcasting Events Coordinator Steve Pickel, a variety of food and craft vendors as well as Aber Day commemorative merchandise will be for sale during the show.
This year's lineup includes Andrea Harsell with Luna Roja, the Mission Mountain Wood Band, and Sam Riddle.
Event parking at the Polson Fairgrounds is $5 and there is camping available for $10. Shuttles will also be picking up guests at a few local hotels.
Upon entering the fairgrounds, traffic will be split into camping and parking lanes. Camping options are: party or quiet.
Event proceeds go to the Anderson Broadcasting Foundation with profits benefitting a variety of local charities including the Boys and Girls Club and the Mission Valley Animal Shelter.
For more information or to volunteer contact Pickel at Steve@AndersonBroadcasting.com or call 406-890-9952.