Lightning sparks fires in Glacier National Park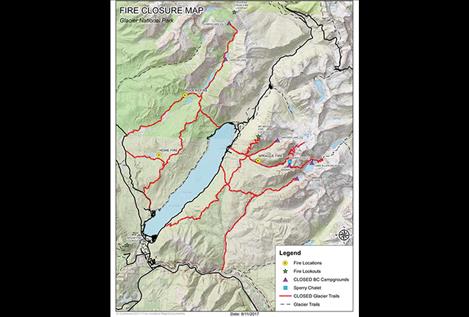 News from Glacier National Park
WEST GLACIER, MT. – Interagency fire response continues in Glacier National Park after several fires were sparked following a severe storm with over 150 lightning strikes in Glacier National Park late Thursday afternoon, Aug. 10.
Aerial resources and fire crews are working on the Sprague, Howe Lake and Rogers fires on the west side of the park. New fires being assessed on the east side of the park include a small fire visible from the Going-to-the Sun Road near Siyeh Bend, and on Elk Mountain in the southeast area of the park. Both of these fires are estimated to be less than a tenth of an acre in size, and are in rocky areas with little potential for spread.
A red flag warning was issued through the evening of Aug. 13 for the Glacier National Park region due to strong winds and predicted thunderstorms. Due to extremely dry conditions, potential for new starts and fire growth is high. Additional fire personnel are staged on both sides of the park to respond to new fires.
The Apgar Lookout Trail has been reopened, as has the Johns Lake area trails. Closures remain in effect for the Howe Ridge Trail, Camas Trail, Trout Lake Trail, the Sperry Trail from Lake McDonald to Gunsight Pass (including all secondary trails such as the Snyder Lake Trail), and the Lincoln Lake Trail. The Inside North Fork Road is also closed to vehicles from Fish Creek to Logging Lake.
Backcountry campgrounds in the areas listed above are also closed. Other backcountry areas in the park are still open for day use. No new overnight backcountry permits are being issued in order to reduce the number of people overnighting in the backcountry while the park remains in extreme fire danger. Individuals with current backcountry permits for areas not impacted by fires are not being asked to leave.
Sperry Chalet remains closed. The structures in the Sperry Chalet complex are not immediately threatened, however the Sprague fire has necessitated the closure of the main trail that accesses the chalet. As of Friday, no overnight guests remain at Sperry Chalet.
Most areas of the park are open including all areas of the North Fork, Apgar Village, the Going-to-the-Sun Road, Granite Park Chalet, Two Medicine, St. Mary, Many Glacier and Goat Haunt. Please check the park website for updated trail and road information at http://bit.ly/2uAE96d.