Amphibious planes pose dilemma in anti-AIS effort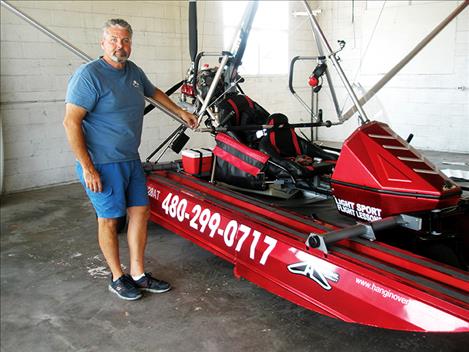 POLSON – As the battle to prevent aquatic invasive species moves forward, what to do about sea planes may be the next issue on the horizon.
Sea planes, or those that only land or take off on water, pose a particular problem: how to regulate them?
"We're trying to figure it out," said Caryn Miske, executive director of the Flathead Basin Commission. "They certainly represent a risk to our waters."
She noted that mussels can release their bissell threads and colonize a body of water fairly easily.
Words such as "an impossible dilemma" and "difficult at best to deal with" are some of those she used when discussing the issue of sea planes recently.
Such a plane can take off from anywhere in the country and land at Flathead Lake without any inspection, although it's required. The owner of a plane taking off from out of state may not even know about Montana's regulations.
Local sea planes aren't necessarily as much of an issue because locals tend to know about the threat.
Rick Stapleton is such an owner. Stapleton, who lives on Flathead Lake at Dayton, said he is one of some 24 locals who own sea planes, which he called float planes.
He said these owners are mechanically inclined and tend to be responsible because they have to inspect their planes prior to takeoff.
He said the number of these planes is "such a small percentage of what's going on," however he believes pilots should know about the state's inspection requirements before landing on Flathead Lake.
Miske said no one really knows how many of such planes land on Flathead Lake during the year, postulating it could be 20, 30, 40 or 50. Nonetheless she said they present a significant risk to the lake.
The Flathead Basin Commission will begin considering what to do about sea planes in the near future. The group will meet again on Sept. 27.
Miske said she wonders if the FBC can make a distinction between resident and non-resident planes when imposing regulations within the Flathead Basin, which basically represents Flathead and Lake counties with a small portion of Missoula County in the Seeley Lake area. A state law that was passed earlier this year (HB622) gave the FBC the authority to regulate the waters in the Flathead Basin. (The CSKT regulates waters located within the Flathead Reservation.)
"We have no recommended course of action yet," Miske said. "We would like to visit with sea plane owners."
Eric Hanson, the CSKT's aquatic invasive species coordinator, noted that Colorado banned sea planes in its fight against AIS, but Miske said it's too early in the process to say whether a ban would be implemented in the Flathead Basin.
Joe Lorenzen is a Lake Havasu City, Arizona, businessman who operates an amphibious motorized glider from the Polson Airport during the summer. His glider can land or take off from water or land, so it's a little bit different than a sea plane. Lorenzen said an employee of Montana Fish, Wildlife and Parks came to Polson and spent three hours inspecting his plane prior to approval this year.
However, Stapleton said a CSKT inspector gave him an approval sticker for his sea plane after only viewing a photo of the plane.
Tom McDonald, director of the CSKT's Fish, Wildlife, Recreation and Conservation Department, said he wasn't familiar with Stapleton's sea plane, but said if the owner doesn't have a trailer then it possibly could've been approved for inspection by use of a photo if it is permanently docked on the water. Normally, a sea plane could be inspected at the CSKT office at 406 Sixth Ave. E. if the owner can transport it on a trailer, he said.
Nine boats with mussels
Hanson said that inspectors across the state have found nine boats with mussels this year, including two in Browning and one at the Jesco Marine and Power Sports station in Kalispell.
Lorenzen, a Shelby native, moved to Lake Havasu City in 2007. AIS prevention efforts there didn't work because they started too late, he said. Lake Havasu City began trying to prevent mussels in 2005 due to their presence in Lake Mead on the Nevada/Arizona border.
He said boat owners on Lake Havasu get an inch of mussels built up on the props and outdrives in the lower units of the boats.
"They have to take 'em out twice a year to scrape and clean to keep the cooling systems functioning properly," he said.