New ice cream shop offers 24 flavors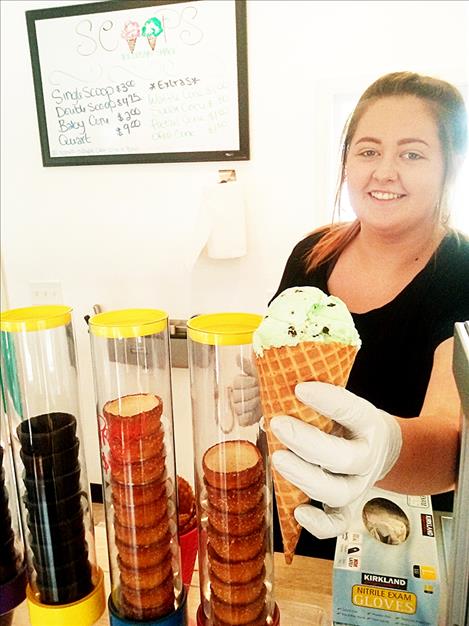 POLSON – Those waiting for a new ice cream shop to open got their wish recently when Scoops Ice Cream Shack opened July 4.
The business offers 24 flavors including sherbet and sorbet, which are low dairy and non-dairy frozen treats.
One rather unique thing about the shop is the cones, which come in five varieties: waffle, sugar, cake, pretzel and Oreo cookie.
The shop recently switched to its off-season hours, which are 3-8 p.m. Monday through Saturday.
Store co-owner Sheila Cox said the business will stay open through the fall and winter as long of folks continue to buy ice cream.
Sheila and her husband Dan moved to the area 3 1/2 years ago from Hamilton and started Cherries BBQ Pit.
It was a life change for both of them as Dan had owned an Internet business and Sheila worked previously for a temp agency.
"We love the community," Sheila said. "We've had nothing but wonderful experiences."
She noted that the couple decided to open an ice cream shop when they bought the parcel of land where their barbecue is located: 203 Second Ave. E.
"We thought it would be a nice addition to the town," she said.
Their ice cream comes from Cascade Glacier Ice Creamery of Eugene, Oregon.
"It was the closest to homemade taste with pure ingredients," Sheila said.
The shack keeps prices as low as possible with adult cones for $3 and children's for $2.
The couple's daughter Lauren is managing the store. She returned to help in the barbecue restaurant the past three summers and came back again to help with the new endeavor.
"It's been so successful that she's staying on," Sheila said.
"It's a fun place to be," Lauren said, noting children have been coming in every day.