Scarecrows support beautification project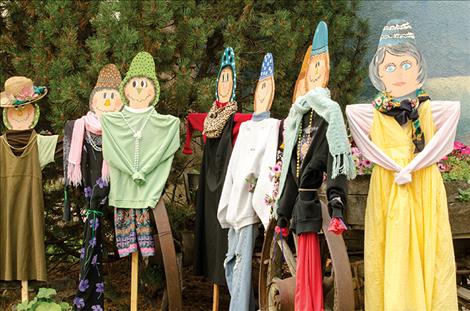 RONAN –During the Harvest Fest on Saturday, Sept. 16, the Ronan Chamber of Commerce Beautification Committee will be selling about 42 scarecrows next to the Dutch Oven Cook Off at the Ronan Visitor's Center on U.S. Highway 93.
The 9th Annual Harvest Fest fun runs from 9 a.m. to 3 p.m.
Ronna Walchuk said it took a community effort to make the weatherproof scarecrows.
Ronan High School students cut out the wooden shapes for the bodies during shop class with the guidance of teacher Hap Cheff. The Ronan High School art class students helped paint faces on the scarecrows. Julie Moore and Vicky Sevier also painted faces. Twice But Nice thrift shop donated some of the clothing for the project, and folks including Ky Bartels at the Ronan Flower Mill helped put the clothes on scarecrows.
Proceeds from the scarecrow project will help defray the cost of watering the flowers on Main Street in Ronan. Greg Linse was hired to keep the plants watered, according to Walchuk.
A booth will also be set up for people to vote on their favorite decorated hay bales that are at locations along U.S. Highway 93 from Charlo to Pablo, on streets in Ronan, and other locations.
The Ronan Chamber of Commerce has maps of the Trail of Bales.