'Like coming home'
Former state legislator, teacher is new Polson commissioner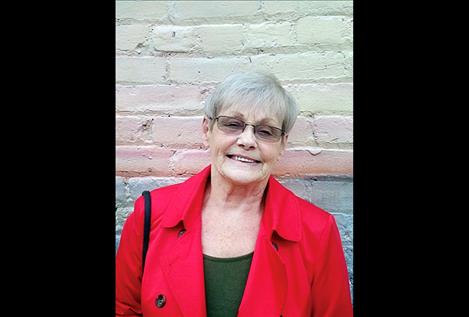 POLSON – Polson has a new city commissioner, and she comes with plenty of experience.
Jan Howlett was appointed on Sept. 18 to fill the Ward I seat of Todd Coutts, who resigned and moved to Missoula.
The former Jan McCallum grew up on a ranch in Niarada and served one four-year term in the state Senate with her father, George McCallum, from 1981-84.
She was known as Jan Johnson then and ran for an open seat in Missoula against Democrat Terry Knight, who had been a well-known Missoula radio and TV personality. Knight also happened to be her sister's husband. "He said, 'Republicans are so afraid of me,'" she recalled.
Howlett said she "went all over Missoula hunting for someone" to run against Knight, and decided to run herself when a friend asked her to do so the day before the filing deadline. Howlett said she took a month off work and walked door to door every day, and campaigned some with her two children. "I went through two pairs of shoes," she said.
"I didn't think I was going to win," she said, but won by 3.6 percentage points. The Republicans took control of the state Senate that year by one seat and also had control of the state House, she said. The Republicans worked with then-Gov. Ted Schwinden, who Howlett called a moderate Democrat.
She served with her father, George McCallum, who served from 1971-89. The father-daughter combo was the first in the nation to serve together on the same side of the aisle, she said. (Both were Republicans.)
But Howlett decided not to run again in 1984. She was a divorced mother of two: a daughter, Leah, was 18 and a son, Joseph, was 11. Both now live in Kalispell.
"I had a teenage daughter," Howlett said. "When you're a single parent, you need to be there to say, 'no.'"
"My kids were more important," she said. "I had no idea how our lives would become a bubble. People ran through my yard signs" and she got phone threats against her children, she said.
Howlett worked as a teacher in Montana and Arizona, was a physician's recruiter in eastern Montana, sold real estate in Wyoming and Oregon and was a housing rehabilitation director in Casper, Wyoming.
She retired in 2006 and moved back to Montana and lived in Terry and Helena.
Her husband Ken Howlett, who had owned Standard Construction in the Mission Valley, died in July 2016, and she decided to move to Polson last October.
"I was raised that you were supposed to give to your community," she said, answering why she wanted to serve on the city commission. "I really look forward to working for the community and the people."
"This is like coming home," she said.