Polson Ambulance Inc. covers Lake County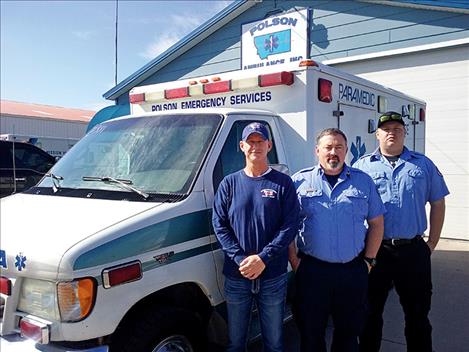 POLSON – Tim Brester was working at the old Ben Franklin store in 1995 when a friend told him about an EMT class. He took the four-month class and was hooked.
"I went not knowing the depth of training and responsibilities that went along with it," he said, adding that he fell in love with it.
Taking care of people, helping them in their time of need and alleviating their pain and suffering are what he enjoys. He also likes interacting with people.
Brester started as an emergency medical technician and then worked his way up to manager before buying Polson Emergency Services in 2001.
He has grown his company, now known as Polson Ambulance Inc., from eight employees to 49 and acquired services in Ronan and Mission along the way.
It has been a labor of love, but he admits that the business has become more challenging due to cuts in reimbursements from various governmental entities.
Brester was joined in the business by his stepson Austin and son Justin, who both became EMTs. Austin, 23, has since moved onto another job, but Justin, 20, has advanced and is now a CPR instructor.
Mike Cullen began working for Brester in 2006 as an EMT and became manager two years ago. "I really enjoy the variety," he said. "You always get to help someone. You always get to make a connection with someone in need."
It's tough to manage EMTs because of their "take charge" personalities, Brester said. "They think their way is the best way, but that's exactly the type of people we want," he said, adding that EMTs are leaders who are able to make quick decisions in stressful situations.
When he started in Polson, Brester said the company was handling 1-2 calls a day. Now it handles an average of 10 calls a day amongst the three stations. Brester's employees work 12-hour shifts and handle an average of three calls per shift at the Polson station.
Through its stations in Polson, Ronan and St. Ignatius, the company responds to calls as far north as West Shore State Park and Yellow Bay. It goes south to Jocko Valley Road but also assists Arlee Volunteer Fire Department/QRU with calls as needed. The Ronan station takes calls from Charlo, and the two southern stations handle calls from Dixon.
Brester said he's breaking even on the Ronan station and losing money in Mission (which he purchased last December), but expects that to change as call volume increases.
"We built ourselves up just a little bit at a time," he said. "We have excellent relationships with fire departments, law enforcement, dispatch and hospitals."
"The county has no obligation for emergency medical (service)," said Steve Stanley, Lake County's emergency management director. "Only by the grace of God do we have Tim Brester."