GOP faithful hear from Senate candidates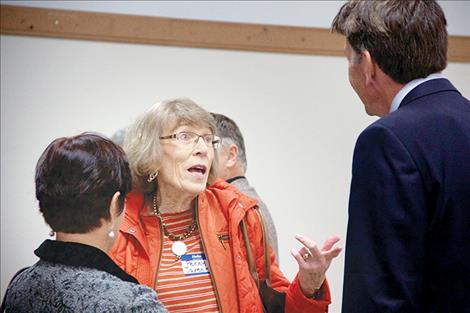 RONAN — On Sunday, some Lake County Republicans got a taste of next year's June primary battle for the right to take on U.S. Sen. Jon Tester in November 2018.
The party faithful gathered at the Ronan Community Center to hear five of seven announced candidates give a short 5-minute speech.
Among those in the running are state Sen. Al Olszewski, R-Kalispell, who represents Polson and most of Flathead Lake.
He was joined at the annual Lincoln/Reagan Dinner by Commissioner of Securities and Insurance/State Auditor Matt Rosendale, former state representative, and recently retired district court judge Russ Fagg, and two businessmen: Troy Downing of Big Sky and Ron Murray of Belgrade.
Olszewski
Olszewski, who was elected to the state House in 2014 and state Senate in 2016, said he's been campaigning for six months.
An orthopedic surgeon, Olszewski also served in the Air Force.
"Our government's broken because of the United States Senate," he said. "The House has sent over 300 pieces of legislation this year," he said, adding that the Senate has acted on only a handful of the bills.
Olszewski said he made a visit to the District of Columbia recently and was told he's not the establishment choice. "There's a certain amount of freedom as a U.S. Senator without the endorsement of the establishment," he said.
Olszewski said he's a fighter and looks to join a team, mentioning Sens. Rand Paul, Marco Rubio, Ted Cruz and Mike Lee by name.
Rosendale
Rosendale, a native of the Eastern Shore of Maryland, previously served one term in the state House and two in the state Senate prior to being elected to his current job.
Now a rancher from Glendive, Rosendale noted that he served as the majority leader in the state Senate and reduced spending and regulations in Helena.
"Your past performance is a direct indicator of future results," he said.
Before the meeting, Rosendale said he is the frontrunner for the GOP nomination, and has been endorsed by more than 30 legislators, including state Sen. Dan Salomon of Ronan and state Rep. Greg Hertz of Polson. In addition, "I've got county chairs representing all 56 counties right now supporting me," he said.
He also touted the support of the Club for Growth, Senate Conservatives Fund and the Great America Alliance, a political action committee that supported Donald Trump when he ran for president.
Fagg
Russ Fagg said his last day as a district court judge was Friday. He served 22 years in the post, handled over 25,000 cases and presided over some 200 jury trials.
"It gives me a unique perspective. I've seen every hurt," he said.
Fagg said he's been endorsed by former governors Marc Racicot, Judy Martz and Stan Stephens and former Congressmen Rick Hill and Denny Rehberg.
Fagg said it's going to be a "huge hill" to climb to defeat Tester, who has raised some $8 million for the race thus far.
Fagg criticized Tester for voting in favor of the Manchin-Toomey Gun Control Act in 2013 and 2015 — which would have required background checks for unlicensed dealers selling guns at gun shows or online; for not voting to confirm Neil Gorsuch to the Supreme Court; and for making a trip to Cancun, Mexico that was paid for by U.S. Sen. Claire McCaskill after earlier saying he would never take travel or food money from any source.
Downing
Troy Downing touted his pro-life bona fides, noting he was the result of an unplanned pregnancy, and said he grew up poor and worked hard.
Downing said he served two tours for the Air Force in Afghanistan in combat search and rescue, built a self-storage real estate investment firm and was a teacher and researcher.
"We need a different story. An establishment story is not gonna work," he said. "I am not a politician. I'm looking at this as a service and not a career."
Lola Zinke, wife of Interior Secretary and former U.S. Rep. Ryan Zinke, is Downing's campaign chairwoman.
Murray
Ron Murray is a dog trainer, operates a dog boarding facility, retail fish store and is a U-Haul dealer.
Murray said the federal government needs to loosen regulations on the logging, coal and natural gas industries.
He cited TrueNorth Steel, which has offices in several states. TrueNorth's Billings location has room for 200 employees but has only hired 60 due to government regulations, he said.
Murray encouraged Republicans to vet their candidate.
"There are candidates in this race (Fagg and Rosendale) bragging about the establishment," he said, noting that one can go to fec.gov to learn where a candidate's money is coming from.
Murray said he supports Trump and is against the "Deep State," which he said is made up of a large chunk of some 2 million federal employees.
The Deans
Another candidate who did not attend the Ronan meeting is James Dean, a U.S. Air Force veteran and financial advisor from Havre.
Dean's wife, Sarah, filed as a Democrat to challenge Tester in the primary. Sarah Dean is a fashion designer and barista.
Tester, who was born in Havre and has a ranch in Big Sandy, was elected in 2006 when he ousted incumbent Conrad Burns by 1 percent and was re-elected in 2012 over then-Rep. Rehberg by 4 percent.