Former Leader editor jailed after appeal fails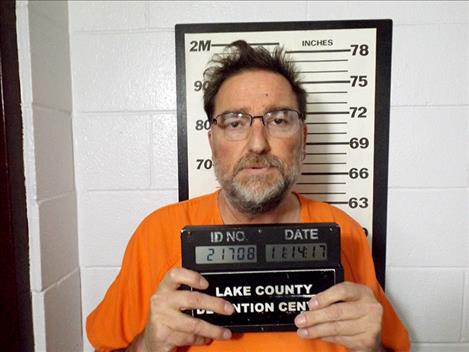 POLSON — A former editor of the Lake County Leader began serving a 10-day jail sentence last week for a misdemeanor "privacy in communications" convictôn after his appeal to the state Supreme Court was rejected.
Vincent Caesar Lovato Jr., 56, has been in jail since Tuesday, Nov. 14, according to lakemt.gov.
Lovato had originally appealed an April 2015 conviction from Polson City Court to Lake County District Court. When the District Court upheld the City Court's decision, Lovato appealed again to the state's Supreme Court.
The Supreme Court upheld the June 2016 decision of the Lake County District Court which found Lovato guilty of misdemeanor privacy in communications for sending threatening emails, texts and voicemails to his former landlord in an effort to recoup a security deposit.
In his appeal to the Supreme Court, Lovato noted that his sentence in District Court was harsher than the monetary fine he had received in City Court.
Lake County District Court Judge Kim Christopher had sentenced Lovato to six months in jail with all time suspended except for 20 days of house arrest and 10 days in jail plus fines and fees.
In his Supreme Court appeal, Lovato maintained that Judge Christopher had abused her discretion and that her decision was based on misinformation and a violation of his due process rights. Lovato stated that Christopher had referred to a dismissed disorderly conduct charge as a "prior" and a "conviction."
In their Oct. 3 decision, Montana's Supreme Court ruled that, although the District Court mischaracterized the dismissed charge, all of the factual information considered during sentencing was accurate.
The prosecuting attorney had noted that Lovato had (in a separate case) received a deferred imposition of sentence for disorderly conduct in exchange for the state dismissing misdemeanor charges for resisting arrest and obstructing a peace officer. Those charges stemmed from an incident in which Lovato was arrested on Oct. 1, 2014 by a Montana Highway Patrol trooper after taking photos at the scene of a head-on collision between a drunk woman driver's Toyota Camry and a diesel tanker truck hauling hazardous material on Montana Highway 35. (Lovato successfully completed a probationary period and the deferred sentence was dismissed.)
The judges noted that Christopher focused on the following facts: Lovato had a long career as a journalist and knew and understood the limitations of free speech protections, knew how to use the civil system to resolve the dispute and had successfully pursued a claim against his landlord in the Lake County Justice Court's Small Claims Division, that the messages he sent to his landlord were frightening, especially those involving the landlord's mother-in-law, wife and daughter.
In reaching a 5-0 decision, the Supreme Court also noted that Christopher referenced various instances of Lovato's lack of respect for the court throughout the trial.
Lovato currently is editor of the Bigfork Beagle, a nine-months-a-year newspaper that opened in 2016 following the closure of the Bigfork Eagle on Dec. 30, 2015.