Hamilton man arrested after high-speed chase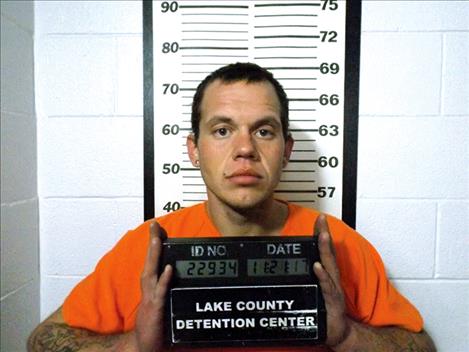 POLSON — A 28-year-old Hamilton man faces multiple charges following a high-speed chase, according to the Polson Police Department.
Jay Donovan Vallejo was charged on suspicion of theft of a motor vehicle, theft of residential property, fraud, deceptive practices, reckless driving, driving while suspended/revoked and fleeing police.
He was arrested following a chase that began shortly after 7 p.m. on Tuesday, Nov. 21.
According to a press release, a Polson Police officer noticed a traffic violation near St. Joseph's Hospital. The vehicle in question — a 2011 silver Honda Fit — pulled over to the side of the road but sped off before the officer got out of the patrol car.
The suspect's vehicle reached speeds of 60 mph before reaching 100 mph on U.S. Highway 93, the release states.
Multiple law enforcement agencies assisted in pursuit of the vehicle as it headed south and entered the outskirts of Pablo.
The vehicle was driven off the road several times through fields, a yard and an irrigation ditch before returning to the roadway, the release states. Stop sticks were unsuccessfully deployed on Clairmont Road.
The vehicle was eventually driven through a yard and struck rocks that caused damage to the vehicle's front end and caused the vehicle to stop.
The driver was then taken into custody. There were no injuries, Sgt. George Simpson said.
A search of the vehicle revealed stolen property from a residential burglary in Missoula, a press release states.