Flathead Basin Commission ponders next steps, funding still in doubt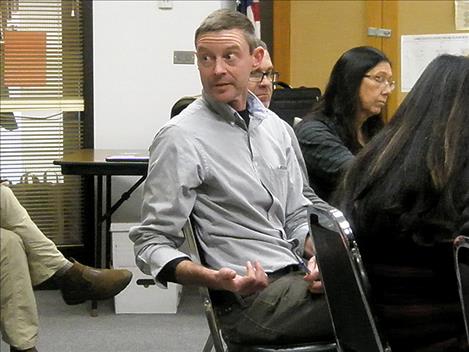 POLSON — How to proceed in case an impending 100-percent budget cut goes into effect was the main topic of the Flathead Basin Commission on Nov. 12.
The FBC, which met at the Lake County Courthouse, did not have a quorum of members present but some 25 people in attendance had plenty to say.
Executive Director Caryn Miske said the organization, which is a state agency under the jurisdiction of the Department of Natural Resources and Conservation, likely has enough funding to make it through January. She recommended the FBC stop expending funds once their balance falls to $5,000. She said she would then take a leave of absence and be available to work as an independent contractor as funds allow, which could be limited to private donations.
She noted that the FBC laid off three part-time employees, who subsequently went to work for the Flathead Basin Protection Fund, a non-profit entity under the private Flathead Community Foundation based in Kalispell. That fund could conceivably continue to raise funds for operation of inspection stations at Jesco Marine & Power Sports in Kalispell and three on the Blackfeet Reservation.
When asked recently what the effect of the Legislature's special session was on the FBC, Miske said she wasn't sure. The DNRC has proposed a 100-percent cut in the agency's funding in response to a state budget shortfall.
Referring to conversations she's had with Lake County commissioners, Miske said they can develop an aquatic invasive species ordinance and vote to create a water quality district but that such efforts probably would not be in time to impact the 2018 boating season. Commissioners could also address the issue of what to do about seaplanes, some of which fly onto Montana waters from out of state, she said.
"If we did a Lake County ordinance, we wouldn't have to do any lobbying at the state," she said.
She said the FBC could also ask Flathead County commissioners to do the same thing. "There's a little ray of hope right now" for that effort, she said.
However, the FBC plans to make one last-ditch effort to request funds from the state, and Miske said that would likely happen via a conference call in December. She said a conference call would be best because there wasn't a quorum of members at the Nov. 12 meeting.
HB 622 was passed earlier this year in regard to the state's fight against AIS. That bill authorized the creation of a pilot program whereby all boats in the Flathead Basin would be inspected (essentially Flathead and Lake counties plus some of Missoula County in the Seeley Lake area). The FBC planned to issue boat stickers to raise funds for inspection stations, but attorneys for Fish, Wildlife and Parks have recently nixed that authorization, she said.
Miske said state Rep. Mike Cuffe, R-Eureka, got approval from FWP attorneys during the regular session earlier this year regarding the sticker program, but said they later changed their minds about the legality of the sticker fee. Calls to Becky Dockter, staff attorney for Fish, Wildlife and Parks, were not returned.
"This is the political ups and downs that we go through all the time," said Chip Weber, an FBC board member and Flathead National Forest supervisor, referring to the FBC's battles with the state. He said the U.S. Forest Service typically battles multiple agencies and organizations over various issues.
Tom Woolf, AIS bureau chief with Fish, Wildlife and Parks, was at the Nov. 12 meeting. He said more than 80,000 watercraft were inspected in the state during this year's boating season. Seventeen vessels were intercepted, including some mussel-fouled boats, but that no mussels or larvae were detected in more than 1,300 samples taken from various waterbodies in the state.
He said most boat owners are using the "clean, drain and dry" methodology recommended by the state in the fight against mussels.
UC3 to meet
In other news, Lori Curtis, the science and education director of the Whitefish Lake Institute, was appointed by Gov. Steve Bullock to chair the newly-created Upper Columbia Conservation Commission, which will meet Dec. 11-12 at KwaTaqNuk.
The "UC3," as it is being called, is an advisory council created by HB 622. It was given $10,000 for the biennium and tasked with recommending a comprehensive monitoring plan for the Upper Columbia River Basin, which is reportedly the last basin in the nation not fouled by mussels.