Breaking her silence
Local woman shares story of abuse to advocate for public health services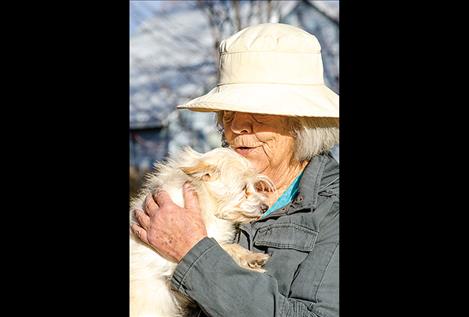 LAKE COUNTY – Penny Lippincott, 74, wanted to keep her experience with childhood abuse buried in the past, but it always came back to haunt her no matter how hard she tried to ignore it. The daily news even had a way of triggering her memories, which is what happened recently.
She was listening to information about projected Montana budget cuts being made across the state to balance the budget due to lower than expected revenue in the state and one of the most expensive fire seasons in recent history. The cuts would affect many programs including mental health services.
Lippincott tried to imagine how survivors of abuse would cope with limited resources, and the thought brought her to tears.
"These programs are the number one place not to be frugal," she said. "We need better funding for existing programs that should never be on the list for those being cut."
She said abuse can sometimes damage a person's ability to function within society so that working and interacting with people becomes a challenge.
"This has to do with people's lives and their ability to get help so they can earn a living," she said.
She decided something needed to be done to support the people being impacted by the cuts.
"I didn't really want to tell my story, but I don't think there is anything else I can do," she said. "It's all I have to help other people."
She hopes that her story will allow people to understand the importance of programs that help survivors of abuse and maybe inspire people to support things like Domestic Violence Programs Intervention (DOVES) and Court Appointed Special Advocates (CASA) that support survivors. She also hopes people write letters to their state representatives about the issue.
Lippincott said her own experience with abuse began as an infant in California before she was even capable of forming memories. She talked to family members and therapists to put the pieces of her experience together that she said began with sexual abuse by her father who is now deceased. The sexual abuse didn't continue as she grew up, but it left mental and physical scares.
"It stopped when I was two and a half," she said. "I guess he figured I wouldn't remember it."
She said physical and mental abuse did continue until she left home when she was 18. She remembers being 12 years old and feeling her fathers fist strike her face hard enough to split her lip.
"My father busted me in the face about every three months," she said. She added that her mother didn't defend her and was often emotionally cold and she aided her father in the abuse.
"She was more concerned with what the neighbors thought," she said.
The abuse impacted the way she interacted with people and often came back in the form of memories so that she wasn't able to forget it.
"I couldn't get through a day without thinking about this," she said. "I used to ask myself, from the time I was little: 'why are these my parents? What did I do wrong?' The only sense I could make of it was that it was karma, and I'd done something in a former life, and I was paying for it."
It wasn't until she was in her 50s that she finally decided to seek treatment. She said therapy and medication did help her learn to cope with her past, but it's something that never goes away. She has found that caring for her animals helps relieve her anxiety.
Western Montana Mental Health Center is one of the programs facing funding cuts in the state. The agency is a nonprofit with programs located across the state including Lake County. Natalie McGillen is the chief operating officer for WMMHC and she said budget cuts are reducing the agency's services in a way she hasn't seen in the 20 plus years she has worked with them.
She explained that state cuts to Medicaid reimbursement rates will impact WMMHC's ability to bill for services, and with rates already lower than they were 20 years ago, reducing programs is the only option.
She said the agency was notified in early December that funding would be reduced by 2.99 percent for all services with an additional 58 percent in cuts for case management programs creating an annualized impact of $4 million.
She said drastic choices were quickly made to cope with the loss in funding, which resulted in a decision to layoff 44 people working in mental health programs in rural towns. Plans are also being made to close programs in Libby and Dillon
In Lake County, WMMHC will continue to serve people through the Polson and Ronan offices and the Lake House. "They are not being closed as far as we know," she said.
McGillen said WMMHC serves 13,000 people in western Montana. She says reduced services could mean some people are unable to get treatment, although the agency is going to do everything they can to keep that from happening.
"Without a support system, people seek help at hospitals or end up in detention centers," she said. "We want to create a diversion so that doesn't happen."
McGillen said she understands that the state is experiencing a budget deficit, but she hopes there is a plan to provide sustainable services for the most vulnerable people.
"This will have a huge impact on mentally ill, elderly and substance abuse," she said.
She added that additional cuts could still be made to programs to address the state's budget issues.
"It's unclear the direction the state is going in, but we are willing to collaborate," she said.