PHS teacher is Polson's new mayor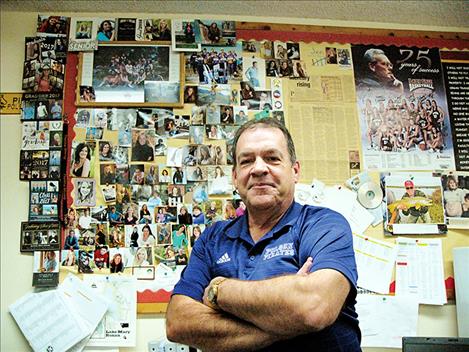 By Caleb M. Soptelean
Valley Journal
POLSON — After teaching about government for 30 years at Polson High School and 37 years overall, Paul Briney is putting it into practice.
He recently replaced Heather Knutson as mayor after he was the only person to file for the seat last year.
"I teach AP Government. If I'm going to encourage my students to get involved, I better take advantage of an opportunity that comes along," the Butte native said last week.
After Polson Schools Superintendent Rex Weltz asked him to run and Knutson, his former student, encouraged him to do so, Briney said he talked with his wife Kathy, a music and art teacher at Pablo Elementary, and decided to go for it.
Briney has some goals in mind for the Polson City Commission.
He'd like to see completion of the wastewater treatment plant expansion, which he said is slated for one year from now.
He'd also like to find some funding to repair city streets and is hopeful that an infrastructure bill being promoted by President Donald J. Trump will be passed this year and provide money to cities and towns.
Briney would also like to see an expansion of the Ridgewater development, which is currently halted due to it not being able to hook up to the city's at-capacity lift station. Briney said a team is currently working with developer Mike Maddy on a resolution.
While he said he's not sure what the answer is, Briney said he doesn't want city taxpayers paying the bill for a new lift station or an upgrade of the current one.
"I'm really positive that something good will come out of it for everyone involved," he said.
Briney said one reason he ran is because Polson has very good employees.
"The more I'm in this position, the more I appreciate what Heather Knutson has done," he said.
Briney has served on the city's Economic Development Council for over two years. He notes that council has not held any meetings recently but said they held numerous ones previously and recommended the city implement a resort tax.
That proposal — which called for implementation of a six-months-a-year tax with the majority to be spent on road maintenance — was not referred to the voters by the city commission, he said.