Veteran Spotlight
Ron Merwin June 9, 1942 Cold War, Vietnam Era Nuclear Electrician, Submarine Officer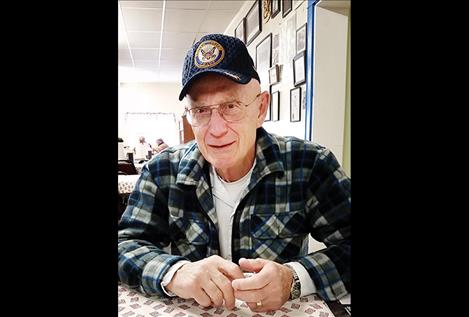 U.S. Navy—Sub Force Pacific,
Sub Force Atlantic
In 1960, Ron was barely 18 years old, just out of high school in Jordan, Montana. Fortunately… or unfortunately… Ron's father and the guy he worked for were both WWII Navy veterans. The recruiter kept coming around and finally convinced him to go to Miles City for basic battery tests. He found out he qualified for a special Navy program in the nuclear submarine field.
He could have gone to school at Montana State in Bozeman, Montana but didn't want to fall into a party lifestyle, and like other young people, he wanted to get out of Jordan. He was engaged to his future wife, Jessie, and they agreed the military was the right choice. Ron enlisted in 1960 for six years in order to get schooling benefits. He got everything the recruiter promised.
Basic training was in San Diego, California. The good thing about finishing basic training was that he and Jessie got married. He then completed "A School" training as an interior communications electrician.
Ron's next assignment was submarine school in New London, Connecticut. After that he was assigned back to San Diego to the USS Ronquil SS396 – a WWII diesel boat. They traveled to Hawaii, Guam, Japan – all throughout Pacific waters. One of the assignments was what was called the "Northern Run" where the submarine carried Spooks (spy type linguists.) They were the last ones on board and the first ones off when the sub returned – spooky!
In 1962, Ron flew from Guam back to California for a 6-month nuclear power school in Vallejo. From there he went to Idaho Falls, Idaho to qualify on the prototype for the Enterprise A1W (Westinghouse first core air carrier.)
It was his next assignment in Newport News, Virginia in 1965 where he finally met his first nuclear submarine, the Calhoun SSBN 630 (a nuclear ballistic submarine.) His job as part of the commissioning crew (called plank owners) was to watch it being built and learn everything about it. They went on several patrols for SubLant (submarine force Atlantic) always on "ready alert" status. Continuous radio communication was a must, with no exceptions and no excuses. Sometimes the crew would get "family gram" mail which were 12-word messages from home. If it was determined the message would interfere with the sailor's ability to focus on the job, the message was not delivered. This was one-way communication with no opportunity for return messages.
Ron went back to Idaho Falls to the prototype. He lost submarine pay, but it was close to home and that was worth a lot. He was a "sea returnee" with a rank of E6 by then. He was on staff and qualified as EOOW (Engineering Officer of the Watch) in charge of two nuclear reactors. His duties included being a crew training coordinator, and he was doing very well so he was placed in the NESEP (Naval Enlisted Science and Engineering Program.) This earned Ron a paid four-year education at the University of Idaho in Moscow. He graduated on May 30, 1971 with a Bachelor of Science degree in electrical engineering. The same day in an impressive ceremony he was commissioned as an Ensign O1 (officer.) Ron wears with great pride his gold dolphin pin signifying an officer qualified on submarines.
Ron went back to school in New London where he transitioned out of nuclear engineering and into navigation and operations. The information was new to him now as an officer and different than before as an enlisted seaman. He learned more tactics and more specialty skills as a supervisor than before as an electrical operator.
In rapid succession Ron served as a division officer on the Robert E. Lee SSBN 601 where he made rank as O2 and two more years on the Casimir Pulaski SSBN 633 where he earned O3 in 1975.
Ron was assigned back to SubPAC to the USS Bonefish SS582, a diesel boat. He served a two-year departmental tour including seven months with West PAC in Asian international waters. He was assigned next to SubPac staff that controls all submarines in the Pacific and Indian oceans. As watch officer he kept track of where everyone was and advised the Admiral.
In 1979 Ron left Hawaii and went back to New London on the east coast to the Kamehameha SSBN642. This was to be his last ship. He was the Navigator and Operations Officer and was promoted to O4. In 1981, after 21 years, 11 as enlisted and 10 as an officer, Ron retired from the Navy. Nine of his ten years as an officer were spent on sea duty – the Navy collected on all of the education they had provided him. His retirement was a real tear jerker – the end of an era for him. He understood service from both the enlisted and officer point of view and got along well with everyone. As a surprise his wife and son were both flown in for the ceremony. He has the ship's flag as a special memento.
Ron believes the veteran's family makes a huge sacrifice and is very important in helping the veteran during his service. In Connecticut he and his family lived in Navy housing and in Hawaii in civilian housing. When he was at sea, Jessie took care of everything.
Ron would do it all again in a heartbeat. He is still in contact with some of the senior enlisted personnel. In some ways, military service is harder today – it's more technological. There are more expectations, more pitfalls. His personal goal today is to serve other veterans.
Thank you for your service, Ron.