Children's play spreads message of kindness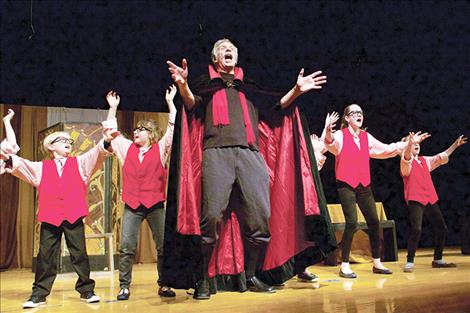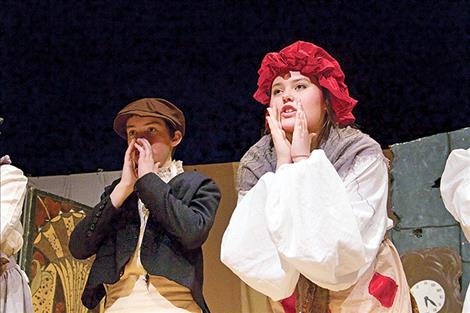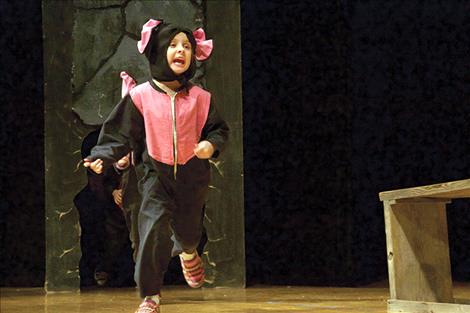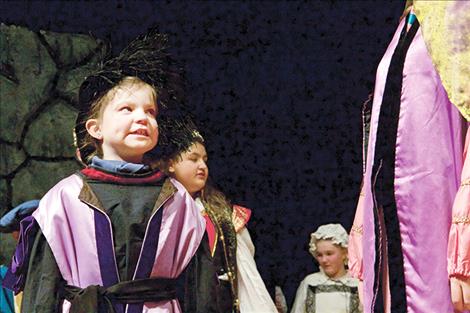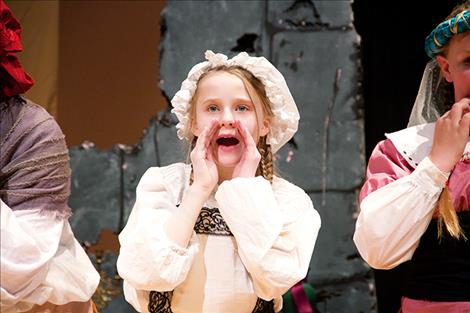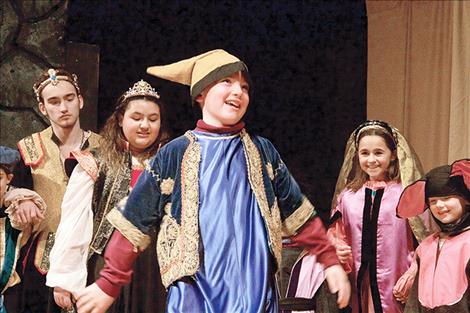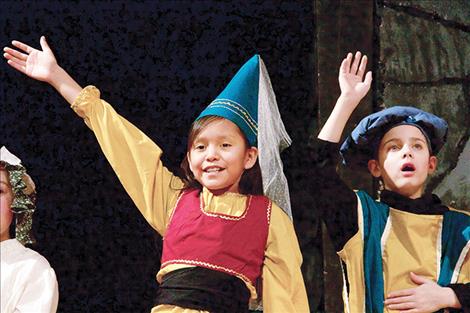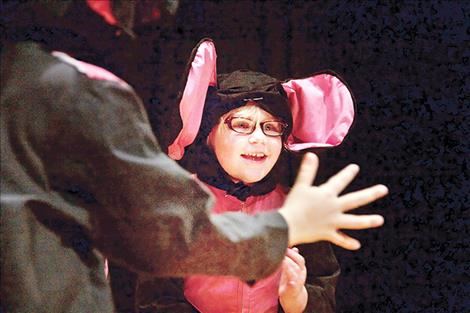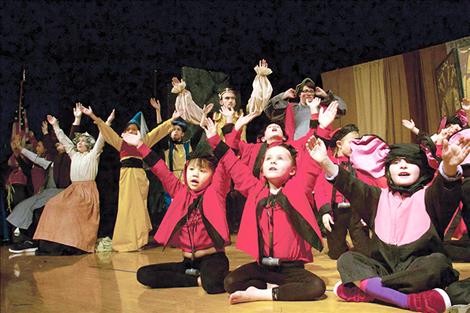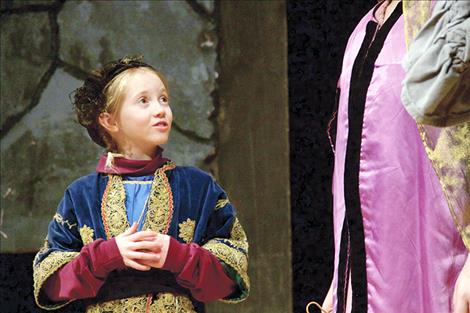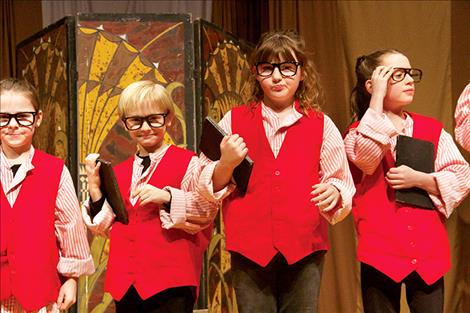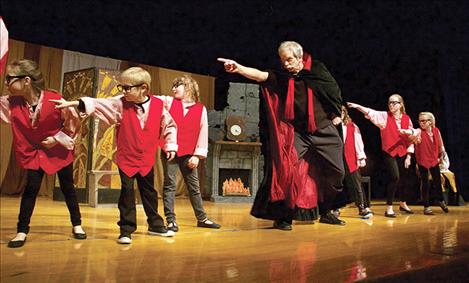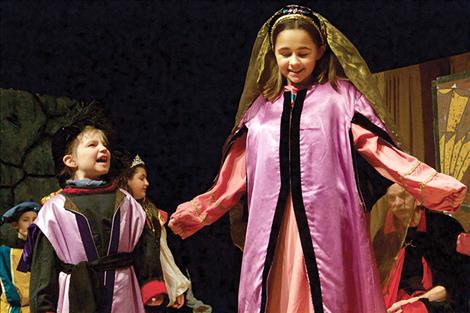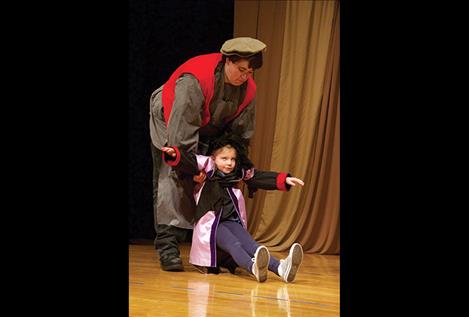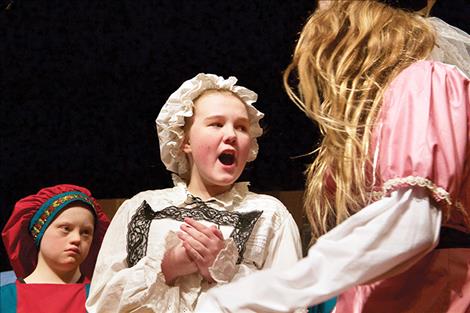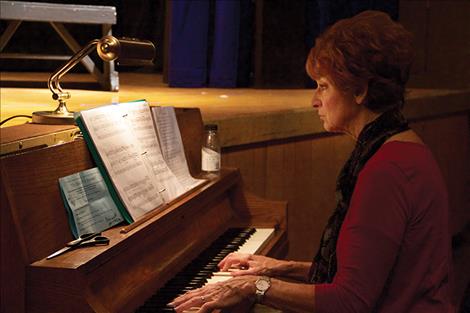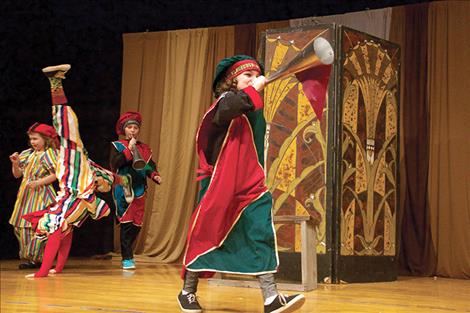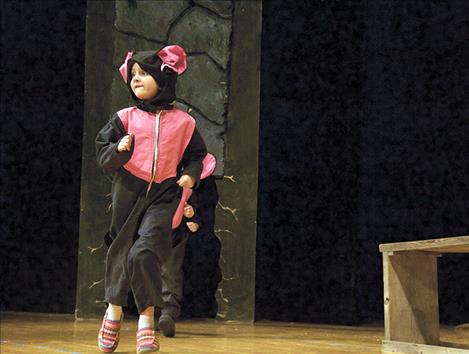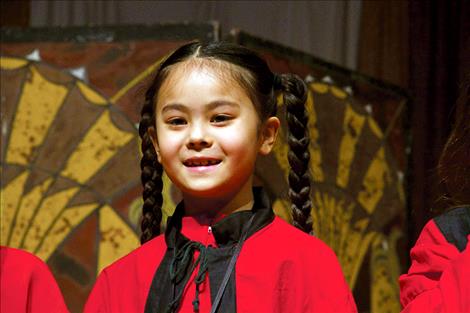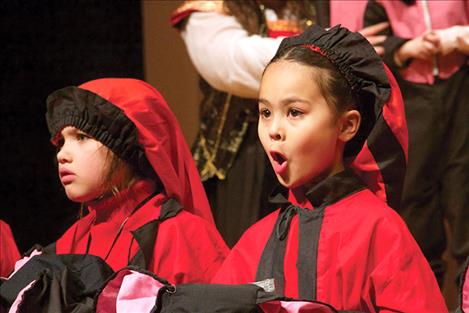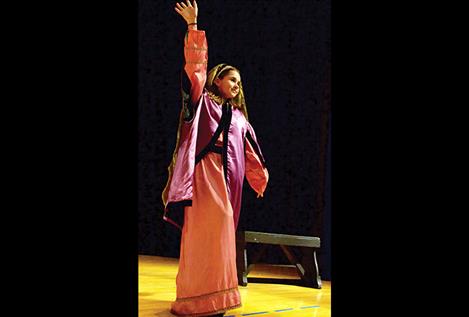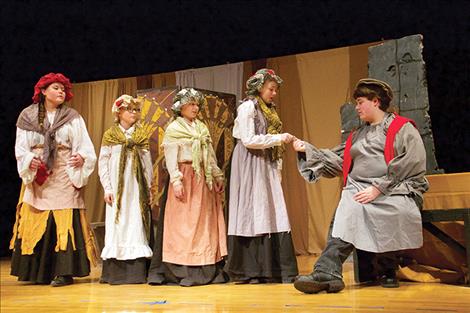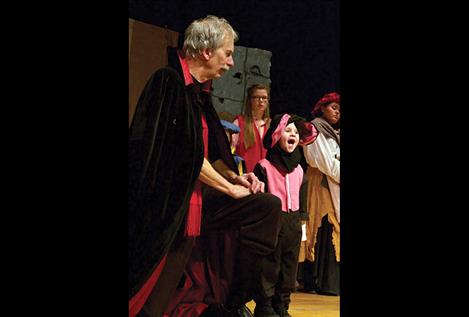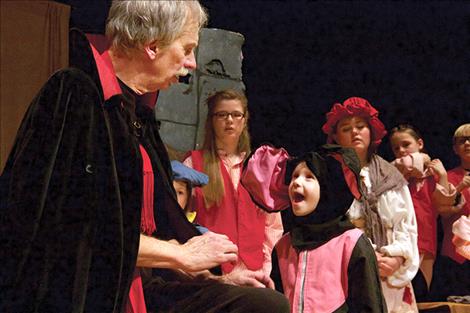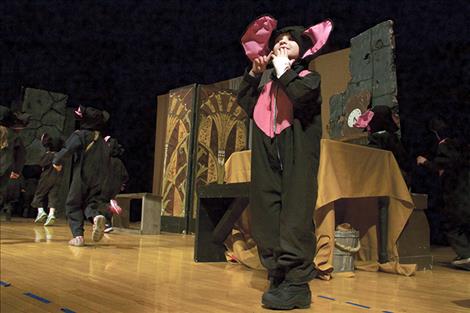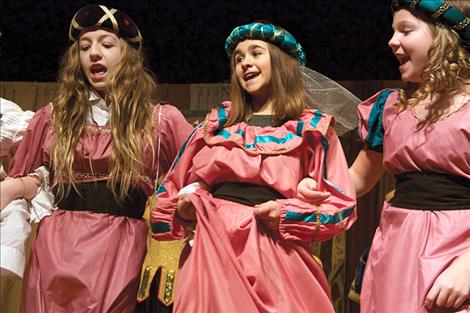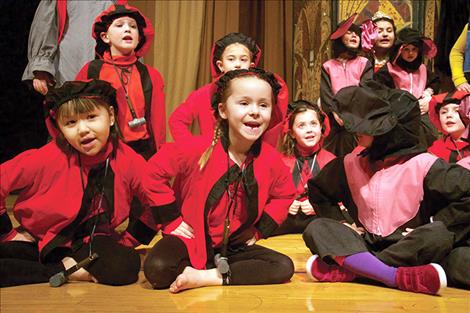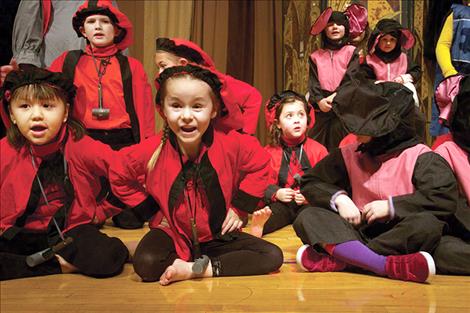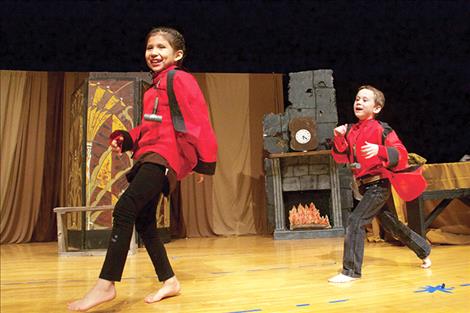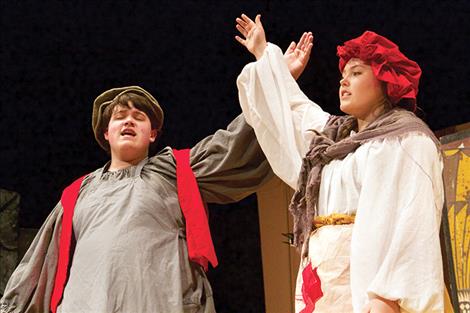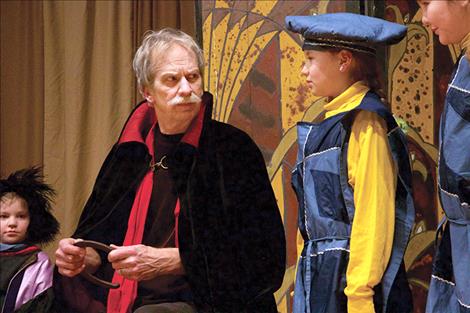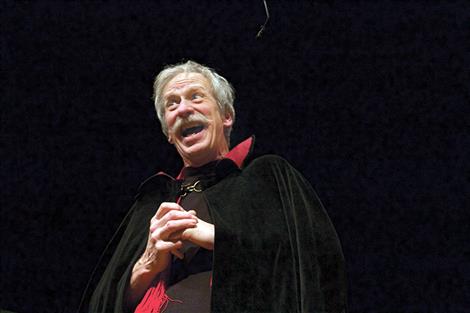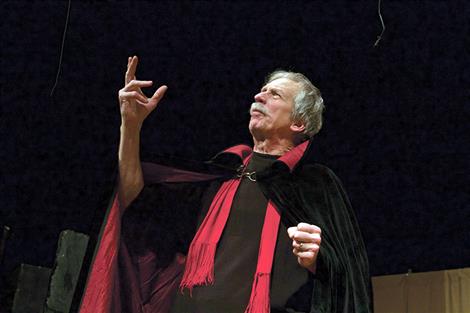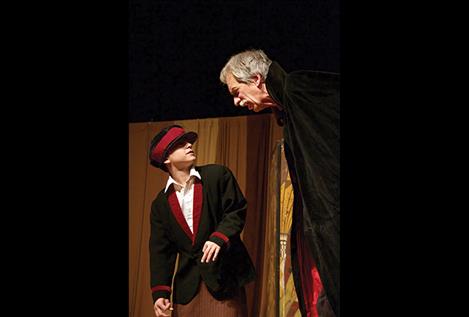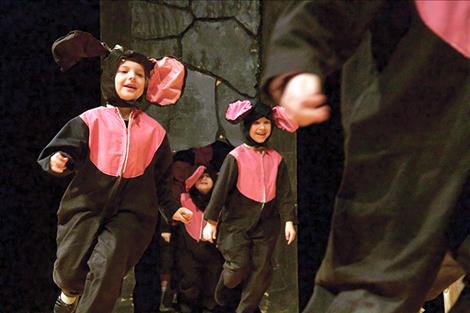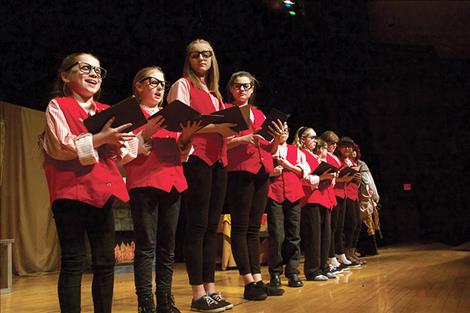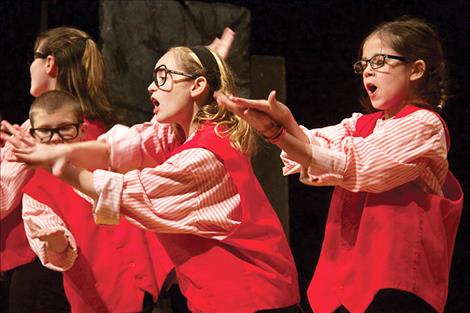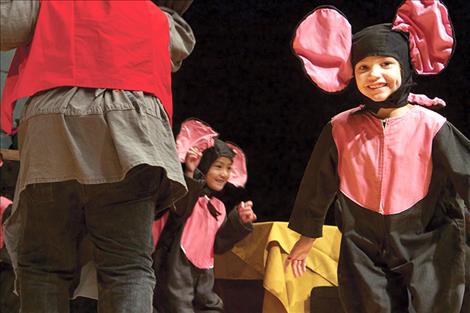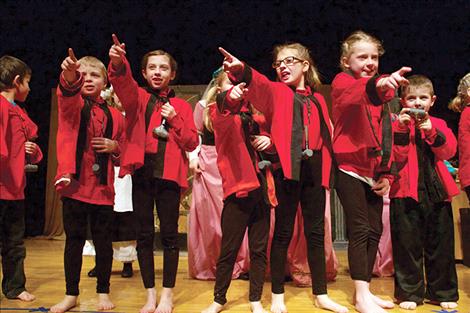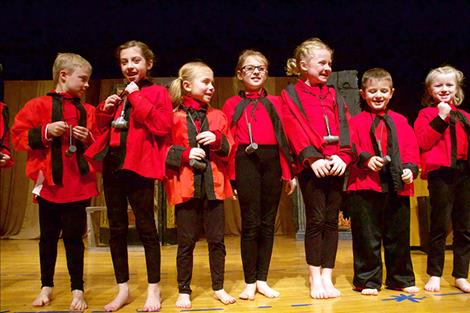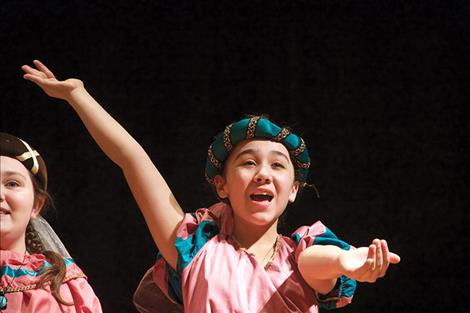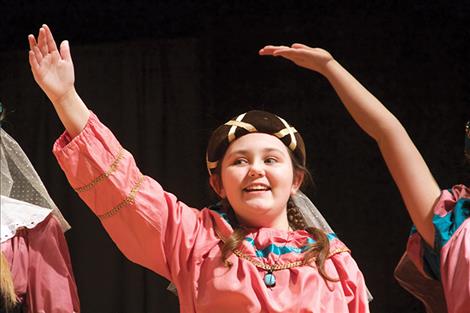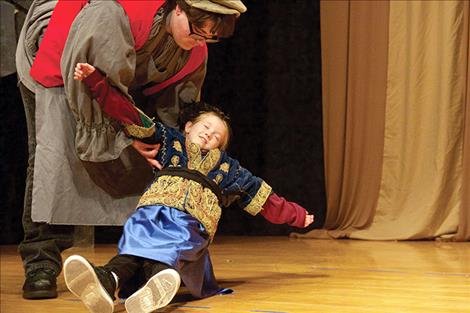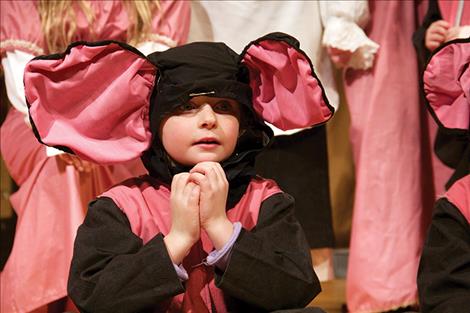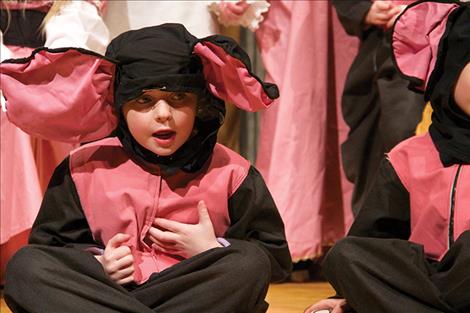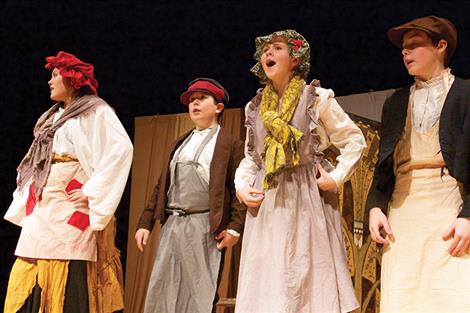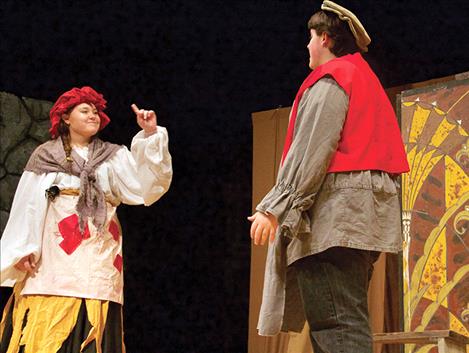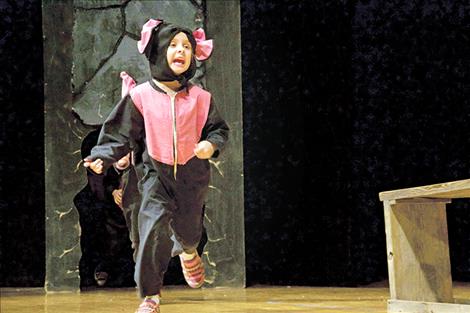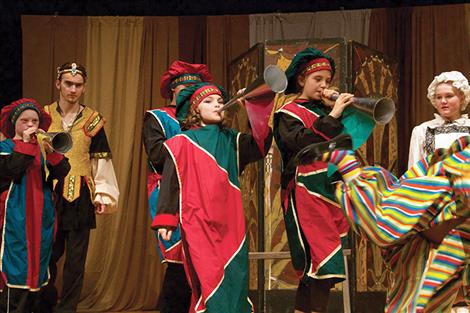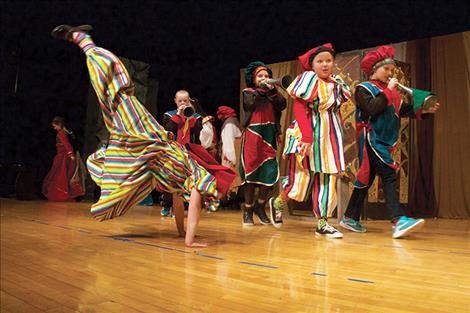 ‹
›
Parents, grandparents, siblings, friends and teachers anxiously waited in a line that backed out through the high school's double doors and outside to purchase tickets for the Friday night production of The Elves and the Shoemaker.
Buzzing with enthusiasm in anticipation of watching young actors take to the stage, the large auditorium filled with smiling adults and the squeals of toddlers anxious to escape and explore the raceway isles of the auditorium. Uncharacteristically, few school-age children occupied the audience seats because many of them would provide the evening's entertainment.
As the royal blue, velvet curtain lifted, an evening of fun entertainment began. Throughout the show audience members delighted in squeaking mice, hammering elves, piano-riff dance moves by goofy accountants, a shoemaker and his wife, a duchess and her quirky helper, royal ladies and gentlemen, jesters, a frantically dancing shoe customer, friendly neighbors, trumpeters, guards, a King and a Queen, the Grimm sisters, Mother Goose and a joke telling villain.
Neal and Karen Lewing's Friday night musical production of The Elves and the Shoemaker brought together 115 kindergarten through eighth grade students and three high school students. Senior Mason Niblack took stage as the always generous and kind-hearted shoemaker. Using their rich singing voices and confident stage presence, Mason and his stage wife, played by sophomore Spring Johnston, relayed the story of Fredrick and Louise Soleman, a couple whose financial struggles are eased by playful and industrious elves.
Neal Lewing, who played Baron Ebermore, was the only actor on stage old enough to have graduated from high school. Interspersing corny jokes between the flourishing of his black cape and his diabolical laugh, Lewing's Baron Ebermore character added more charm than malevolence to the role.
Karen Lewing said the children accomplished what most adults couldn't. "They learn much faster than adults. They are like sponges. They soak it up," she said.
Neal Lewing also commended the children's efforts. He said they put in over 40 hours of practice in just 10 days. The children, split between two casts for Friday and Saturday night performances, met for eight practices together and for two practices with each evening's individual performing group. Their final practices were dress rehearsals, held right up until the curtain rose. If there are last minute glitches, they practice and iron it out before the curtain rises. Karen and Neal Lewing, co-writers, producers, and directors of the production, said they "… want children to walk on stage with every confidence."
It took over two hours to put 55-plus children into their costumes each evening and the costumes have seen plenty of wear over the years. Parents of cast members are often heard to say they recognize a costume as one they wore when they were in a play. The Lewings have been producing plays for over 30 years and Karen noted that this year the third generation of cast members participated. That means that grandparent, parent and grandchild all shared the experience of a Lewing production. Two Lewing grandchildren even joined the family's stage tradition at Saturday evening's performance.
The Elves and the Shoemaker has been performed four or five times in Polson under the Lewings' guidance. Altogether they have written seven different musical productions based on children's fables. Other plays include, Hansel and Gretel, Heidi, Stone Soup, Fortune's Fables (a trilogy of – The Three Little Pigs, The Country Mouse and the City Mouse, The Tortoise and the Hare), and an original play about a stage family entitled, "Babes to Broadway." Kalispell, Bigfork, and Ronan are among the locations the couple have taken their children's productions to.
Each of the story's roles are created with a specific age and experience in mind so they provide a certain level of challenge without being overwhelming. The youngest actors enjoy being part of a group, as this is less stressful and intimidating. In this play there were groups of mice, elves and accountants who entered and left stage together.
The children also learn that a play production is not just about being a star but about all the work behind the scenes. Karen repeatedly stated how the play would not be possible if it were not for the help of the high school and middle school students who assist with the younger children. Even the younger children learn incrementally to be responsible, starting with the job of gathering costume parts. The Lewings take pride in their program's role in teaching children to be increasingly responsible as well as providing incremental opportunities to grow their presentation abilities. Two very helpful lifelong skills.
The Lewing's performing arts program not only builds character for the stage participants but also lifts the bar for young peers in the audience. Students in the audience get to see what others their age accomplish with hard work. In addition, Karen said she think its good for the middle school children in particular, to see their friends act as mentors for younger children.
Due to the recent collapse at the Linderman gymnasium, the free Monday play presentations traditionally given for middle, elementary and preschool children, had to be cancelled. All local venues are fully booked, covering for the loss of the Linderman space. Neal said, even though it's something that can't be helped, he was disappointed because so many young people experience their first live performance in this way.
Following The Elves performances, the Lewings encouraged community members to support the arts by voting in favor of any mill levies that sustain them.
Some of the positive messages imparted during The Elves and the Shoemaker were: What goes around, comes around; Open up your heart and let the sunshine in; No generosity goes unrewarded; If someone shows you kindness repay them with kindness; and Miracles can happen everyday.
These messages might have reinforced the children's already kind-hearted natures because at the end of the performance, those who were gifted flower bouquets were seen sharing their flowers with those who didn't have any. An example of a warm bond created by a common endeavor.