FLiC Festival is a wrap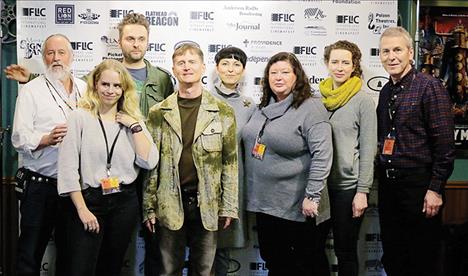 News from FLiC
The Flathead Lake International Cinemafest concluded Jan. 28 with an awards ceremony and early evening screening of some of the most popular films of the festival. Encore presentations continued last week. The festival was a great success – with almost 900 people viewing the 68 films presented. Twenty-seven filmmakers representing 17 films attended and hosted Q&A's for their films. Fifteen countries were represented in the screenings.
The runaway hit of the festival was "Iron." It garnered Best Female Actor, Best Male Actor Honorable Mention, Best Director and Viewers Choice! The film depicts a young woman who joins the labor force as a railroad worker during World War I, loves doing what was traditionally a man's job. But what happens when the men come home?
The international flavor of the festival came through in a number of categories. The Best Film Animation, "Light Sight" is from Iran. The Best Documentary Short, "Nobody Dies Here" is from France. The Best Male Actor is from a Turkish film, "My Name is Batlir, Not Butler."
"Game" was a big winner as well and received the highest composite score from the 3 judges. It received the Best Picture Short award and Honorable Mention for Best Director. A new kid in town shows up at the high school boys' basketball tryouts and instantly makes an impression.
"4 Dancer's Dreams" from Canada received the Best Documentary Feature. It follows four young dancers with professional aspirations. Art and aspiration rolled into a wonderful film.
Indigenous films included "7th Generation," the Best Indigenous Film award and "The Essence of Healing: The Journey of American Indian Nurses." "7th Generation" addresses historical and current perspectives from Lakota Elders with a focus on a positive future. "Essence" follows 14 Great Plains nurses and their common theme, their past life experiences and American Indian Heritage.
The Best Feature film, "Unbridled," is a moving story about sex trafficking and the healing and redemption available for girls and horses with abusive pasts.
Very positive comments are coming in from filmmakers and participants. One of the comments on the festival read "the community of filmmakers and local residents was so welcoming, I felt immediately at home in Polson." One of the filmmakers who received an honorable mention wrote, "it truly was a wonderful experience full of exceptional films and extraordinary people."