Outgoing mayor honored for service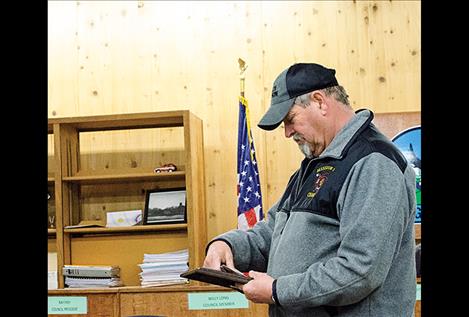 ST. IGNATIUS – Newly elected mayor Steve McCollum took his place on the council bench during the Tuesday, Feb. 6, meeting. He replaces Charley Gariepy who served as mayor since 2006.
Board member Ray Frey presented Gariepy with a plaque during the meeting to thank him for his service. Frey said Gariepy also served on the council before he was mayor, but no one, including Gariepy, is sure just how long he served, although the time was estimated to be about 20 years.
"He has helped get a lot of things done in this town," Frey said of Gariepy.
Newly elected board members Annie Morigeau and Chris Heffern joined the new mayor on the board. Ray Frey and Willy Long retained their seats.
During the meeting, the board listened to the results of an annual outside audit report. It was suggested that the board consider the town's debt of about $50,000 and the use of the street sweeper. The issues will be discussed at the next meeting.
Reece Bailey was hired as an employee for about eight hours a week to help the town with various duties including learning water and sewer operations.
St. Ignatius Fire Chief Jeremiah Morigeau reported that the department responded to six calls in January. Five of the calls involved vehicle accidents, and the one call involving fire turned out to be a non-incident. Morigeau also noted that firefighters are taking emergency response classes to add to their skills.