sports shorts for April 25, 2018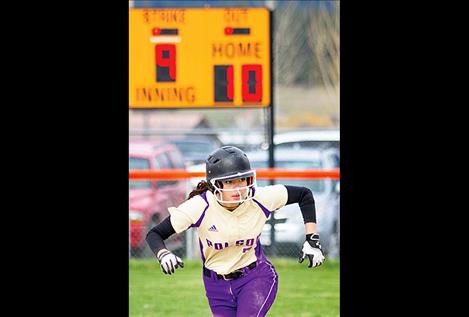 Last week, Arlee Warrior Phillip Malatare earned some national recognition by being placed on the USA TODAY All-Montana first team list. Malatare averaged 22.3 points, 9.3 boards and seven assists per game helping the Warriors to their second straight State C title.
Recently, Polson senior Kaelyn Smith signed her letter of intent with the University of Montana continuing her stellar softball career as a Griz. Classmate Carson McDaniel signed his letter of intent to play golf at South Dakota School of Mines & Technology.
Track and Field
Arlee
The Arlee track and field team placed in the top five in a couple of events during a five-team meet at the MCPS Stadium in Missoula on Tuesday, April 17.
Colt Crawford placed fourth in the 400 and the boys relay team finished fifth in the 4X400, while Peyton Lammerding took fifth place in the girl's discus and shot put.
Mission
Mission High School senior Michael Durglo won the boys shot put (45-00.25), discus (122-00) and javelin (153-10) during the Thompson Falls Invitational on Thursday.
The Mission boys took first in the 4x400 relay, as the team of Darius Redstar, Austin Elverud, Flint McPherson and Trance Bird finished in 48.66.
Afton Brander took two events. She had a leap of 15 feet, 2.50 inches to win the long jump and leapt 32-01.50 for the triple jump.
Charlo, Polson
On Thursday evening, the Polson and Charlo track and field teams competed in the Sapphire Twilight Invitational held at the Corvallis Community Events Center.
Colton Cote had the top boy's individual finishes for Polson by placing first in the 110-meter hurdles with a time of 15.39. Toby Odom ran the fastest time in the 300-meter hurdles (44.01) for the Charlo Vikings lone top boy's individual finish.
The Charlo girls took first in the 4x400 relay, as the team of Kaitlin Cox, Tyrah Hammond, Liev Smith and Carlee Fryberger finished in 52.03.
Lady Viking Tyrah Hammond won both 100 meters (13.09) and 200 meters (27.40), while teammate Carlee Fryberger finished first in the 100-meter hurdles (15.91).
Polson runner Bea Frissell took two events winning the 1600 (5:22.48) and 3200 (11:49.65). Mikaela Ducharme leapt 33-10.50 in the triple jump to place first.
Lady Viking Carlee Fryberger placed first in the 100-meter (13.01), Tyrah Hammond ran the best time in the 200-meter (26.87) and Kaitlin Cox placed first in the 300-meter hurdles (52.83) to help lead the Charlo girls to a second-place team finish during the Seeley-Swan Invitational in Missoula on Saturday.
On the boys' side, Wills Degrandpre finished first in the 3200 (10:50.85), Toby Odom had the best time of 43,52 in the 300-meter hurdles and Landers Smith won the Pole vault (13-00) for the Vikings.
Softball
Polson Lady Pirates 30
Browning Indians 0
The Lady Pirates had no issue pushing runs across the plate on Thursday evening in a 30 – 0 lopsided win over visiting Browning. Polson tallied 27 hits and had nine batters with two hits or more on the evening.
Paige Noyes led the Lady Pirates with four RBIs, while Kaelyn Smith, Grace Quinones and Lisa Costilla each had three RBIs. Both Smith and Quinones had homeruns.
Polson Lady Pirates 5
Libby Lady Loggers 1
On the road, the Lady Pirates defeated Libby 5-1 in Northwest A conference action on Friday.
Quinn Motichka led Polson at the plate going 3-4 and had an RBI, while Josie Caye had a home run and two RBIs on two hits.
Hamilton Lady Broncs 10
Ronan Maidens 9
At home on Thursday, the Maidens fell 10-9 to Hamilton in a close roller coaster game where the lead changed five times.
Gabby Wirz had two hits on four plate appearances and two RBIs to lead the Maidens.
Libby Lady Loggers 10
Ronan Maidens 0
The Maidens where shutout on the road by Libby 10-0 on Saturday afternoon. The Lady Loggers held the Maidens to just three hits. Katlyn Santos led with two hits and Melanie Adams had the other.
MAC Lady Bulldogs 15
Thompson Falls Blue Hawks 0
MAC Lady Bulldogs 6
Thompson Falls Blue Hawks 2
The MAC softball team had dominant day in both hitting and pitching, defeating visiting Thompson Falls, 15-0 and 6-2, in a doubleheader on Tuesday.
Bulldog pitcher Tomi Brazill pitched a shutout in game one and held the Blue Hawks to just two hits in the night cap. Brazill also had a good day at the plate booking a double and three hits in game one.
In game one, Haley Crawford and Ashley Tanner both had four RBIs, with Tanner hammering the ball for a home run.
In game two, Frankie Smith led the Bulldogs with two hits and an RBI.
MAC Lady Bulldogs 13
Troy Lady Trojans 2
MAC Lady Bulldogs 19
Troy Lady Trojans 5
MAC swept hosting Troy in a doubleheader Friday, winning 13-2 and 19-5.
In game one, Azia-Rain Umphrey blasted a home run and Frankie Smith smashed back-to-back homers to lead the Bulldogs. In the second game, MAC had five batters with two or more RBIs apiece.