Business gets energy saving rebate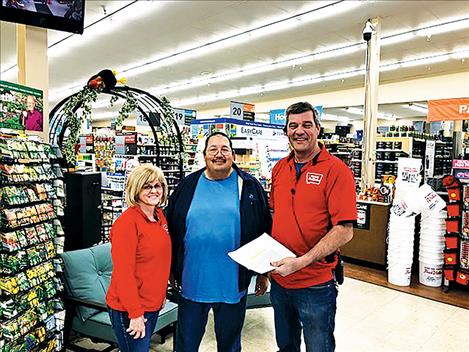 RONAN – The folks at Ronan True Value figured out how to save more than $100 on their electric bill and they want to see other businesses with a lot of lights get similar savings.
Owner Richard Osterwyk said changing 900 light bulbs in his store to LED lighting was the trick to getting the savings. Besides a lower power bill, he also got a rebate from Mission Valley Power for about 90 percent of the cost of the LED bulbs and labor expenses after getting pre-approval for the project.
Richard worked with Lyle Neiss, MVP's energy conservation technician, to apply for the commercial energy conservation program.
"I told him what I needed and he figured out how much I would save," Richard said. "He was very helpful and made the process pretty easy."
The idea for the project started when Richard needed to replace the bulbs on the outside of his business. "It was like $80 each to replace them," he said. So, he decided to look for something else. It occurred to him that the fixtures in the front of the building were put up in the 1970s and they might be outdated. He was right.
He discovered LED lighting is more energy efficient by about 50 percent and last longer. The newer technology is also brighter, and to his delight, "they work great in cold weather."
After changing the bulbs on the outside of the store last year, he saw a $100 in savings per month on the power bill. He decided to do the entire store February of this year.
Beverley Osterwyk, co-owner, looked at the store's power bill from February to March and said the interior of the store saved about $200 in energy costs. She plans to continue looking at the bills and comparing them to last year's costs, but she is pleased with the savings so far.
Richard said each of the 900 bulbs he replaced in the store retailed for $12.99 and he did the installation. He noted that the bulbs were much more expensive when the technology first came out, but the cost is going down. "I think these are good for anyone," he said.
He was so impressed with LED lighting that he started selling more of them in his store, along with conversion kits if anyone needs one. "People walk in and say it's brighter in here, and we start talking about it," he said. "I think they are great for everyone. I wish we had done this sooner. The technology is there now, so we should embrace it."
MVP General Manager Jean Matt said conservation forms for businesses and residential owners are available on the utility company's website at www.missionvalleypower.org. People can also call 406-883-7900 for assistance.