Pablo man pleads not guilty to felony assault charges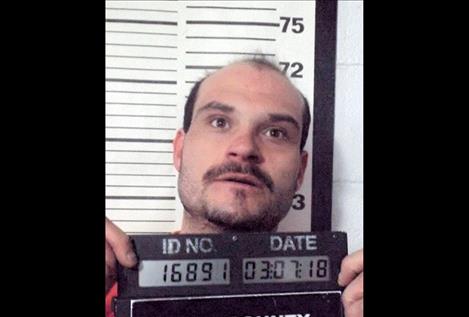 A Pablo man with two prior domestic abuse convictions is facing a third, now felony, charge of partner or family member assault.
David Boyed Vanbouchaute, 32, entered a plea of not guilty at District Court in Polson last week to assault on a minor, partner or family member assault, both felonies and misdemeanor unlawful restraint.
According to court records, on March 6 Vanbouchaute was allegedly feeling the effects of methamphetamine when he began arguing with a partner or family member identified as D.O.M. D.O.M. told investigators that the argument was about Vanbouchaute's hallucinatory belief that his monthold child was not his son and that his son had died at the hospital. D.O.M. attempted to leave the residence with the infant but was stopped by Vanbouchaute who was blocking the doorway. Vanbouchaute is then alleged to have grabbed D.O.M. by the hair, threw her down and grabbed the infant by his face and squeezed his head in anger. D.O.M says she was forced to leave the infant behind and escaped through a window. She went to a neighbor's home where she called 911.
Responding law enforcement officers described Vanbouchaute as being highly agitated and in an irrational state speaking quickly and "bouncing from one tangential thought to tangential thought."
Vanbouchaute's criminal record shows two prior domestic assault convictions.
District Judge Kim Christopher set the case for trial in July with a pre-trial hearing set for May 17. Vanbouchaute remains in the Lake County jail with bail set at $50,000.