Gaither enters plea agreement to resolve three cases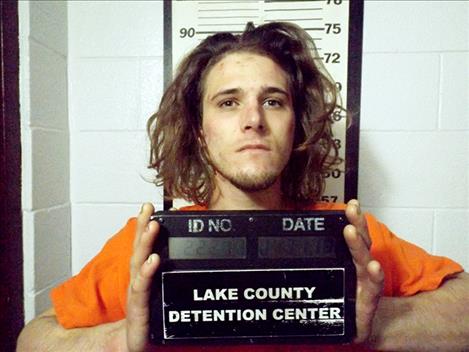 A 24-year-old Polson man entered into a plea agreement with Lake County prosecutors last week that resolves three separate cases against him. Nicholas Gaither entered an Alford plea to one count of endangering the welfare of a child. In an Alford plea a defendant concedes the case based on state's evidence without admitting guilt. In this matter Gaither was accused of leaving drugs and or drug paraphernalia in an area of a home where a 2-year-old could access it. One count of criminal possession of dangerous drugs was dismissed as part of the plea agreement. The second matter involved a bail jumping charge stemming from the first case. Gaither admitted to the bail jumping charge.
Gaither also admitted to his role in the theft of rare coins, a collector's watch and other valuable items from a storage unit in Polson. In this case authorities in Kootenai County, Idaho, arrested a Polson man, Kenneth Gieber, on Jan. 18 on local charges unrelated to Gaither's case. A search of the vehicle Gieber was in would yield many of the items missing from the storage unit including a backpack full of coins, a collector's watch, firearms and a large set of bolt cutters. It was later discovered by investigators that Kenneth Gieber's sister rented a storage unit adjacent to the one burglarized. Surveillance video would show the sister placing what appears to be guns into her storage unit. Authorities in Idaho would confirm that Kenneth Gieber was in possession of a key to his sister's storage unit. The sister would deny any knowledge of stolen items in her storage unit and implicated her brother stating that Gieber and Gaither broke into the storage unit and split the ietms 50/50 and went their separate ways.
On Jan. 30, Polson Police got a phone call from a Bob Burton of Grizzly Gold in Missoula stating that he had purchased $10,000 worth of gold from Gaither and that Gaither was trying to sell more gold, 20 krugerrands, to another gold exchange in Missoula. Missoula Police would later locate and arrest Gaither. The vehicle Gaither was in was seized and a search warrant obtained to search the vehicle. The search turned up more items taken from the storage unit. The owner of the storage unit claims more than $150,000 in krugerrands was taken.
Lake County prosecutor Ben Anciaux said charges will be filed against Gieber once his issues in Idaho are resolved.
A plea agreement for Gaither amounts to sentencing being deferred for 10 years on the three charges. District Judge James Manley set sentencing for May 16. Gaither will get credit for 63 days jail time already served.