Ann DeVoe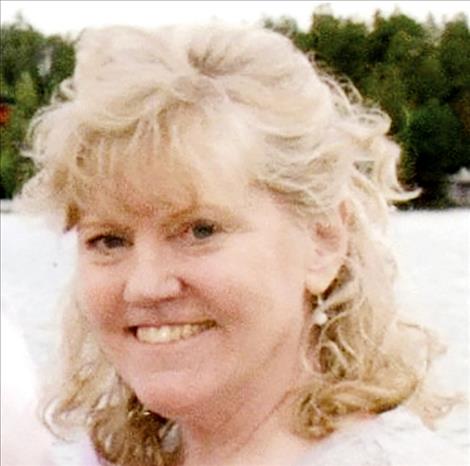 POLSON — Just hours after she was able to see the last of all her family one final time, Ann Louise DeVoe, age 64, passed away peacefully at her home on Flathead Lake on May 25, 2018, after waging a fierce seven-month battle with cancer.
Ann was born Feb. 4, 1954, in Denver, Colorado, to Carl and Loretta (Gillespie) Lager, and grew up there. Following high school she attended the University of Colorado in Boulder, joined Alpha Omega Phi, and graduated in 1976.
She was living and working as a hospital medical technician in San Diego in 1980 when she came to Flathead Lake for the first time to serve as maid of honor at a sorority sister's wedding.
That's where she first met Richard DeVoe, who was best man in the same wedding. Two years later, in May 1982, they walked down the aisle together again, this time at their own wedding in Denver.
When their wedding announcement was printed in Montana newspapers a few weeks later, from information supplied by her new husband, Ann - who thought Richard was a hard-working oil field hand - was surprised to read that she had married a Harvard-educated attorney and Wyoming State Senator.
It was neither her first introduction to Richard's sense of humor, nor her last, but Ann exacted a bit of revenge for the fake news that popped up in her wedding announcement. She cancelled her husband's vote with her own in virtually every American election for the next 36 years.
As Richard's career advanced his job took them from Gillette to Casper, Wyoming; Salt Lake City, Utah; and Midland, Texas. Along the way daughters Nikki and Colleen were born.
Ann did an incredible job keeping the family and household running smoothly while Richard's job took him around the globe, sometimes for long stretches at a time. She also continued her career as a hospital medical technician.
In 1998, when he was able to commute to his work from virtually anywhere within a reasonable distance of an airport, they moved to Richard's hometown of Polson.
There, Ann continued her career, working in the lab at St. Joseph Medical Center for 17 years until her retirement in July of 2017, shortly after her husband retired.
Ann is preceded in death by her parents.
She is survived by her husband, Richard, at the family home; daughter, Nikki of Missoula; daughter, Colleen Smith and her husband Travis of Redmond, Oregon; her brother, Edward Lager and his wife Penny of Denver, Colorado; several nieces and nephews; and granddaughter, Evelyn, who will miss her "Maga."
Services have been held. In lieu of flowers, the family suggests donations in Ann's name to the Mission Valley Elks Lodge in Polson. Messages of condolence may be sent to the family online at: www. lakefuneralhomeandcremation. com.
The Lake Funeral Home and Crematory, Polson, is assisting the DeVoe family with arrangements.