Patricia Mueller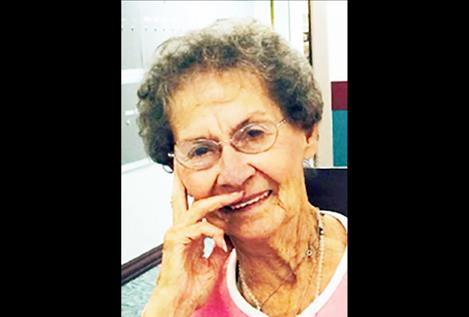 BILLINGS — Pat Funke Skogen Mueller, 83, beloved mother, grandmother, wife, sister, aunt and friend, passed into heaven on June 22, 2018, in Billings, Montana, after suffering a series of strokes.
Patricia Joean Funke was born to Edward and Bessie Funke in Polson, on March 16, 1935. She was the seventh of nine children, born during the Great Depression. She and her siblings grew up near the shores of Flathead Lake where they made many happy memories. In 1958, she married Alfred Skogen of Ronan. They were divorced 22 years later, but three wonderful children came out of the union. She found love again and in 1988 she eloped and married Roy Mueller. They shared much joy until Roy passed away in 2009.
Pat led a very interesting life. She owned and operated the Entertainer Theatre in Ronan. During this time, she hired many people with special needs in a time where it was not common to do so. After selling the theatre, she worked as a checker at two local grocery stores. She often said that her greatest job, and her greatest joy, was raising three children. She so adored her grandbabies and always had a handful of photos to show anyone who would care to see.
In 2015 she moved to Billings to be with family and lived at St. John's Lutheran home at Chapel Court Assisted Living. She made wonderful new friends and fond memories with children, grandchildren and great-grandchildren.
Pat was a famous jokester, making everyone around her laugh. Pat had a warm personality and she loved being around people. She loved gardening and making baby blankets for her grandchildren, friends, or anyone in need. One of her greatest loves was singing hymns, something she enjoyed her whole life. She was a long time board member for the Folkshop in Ronan.
She is survived by her children Cindy and Tom Dell of Billings, Fred and Tammy Skogen of Greeley, Colorado, Karen and Aaron Haslem of Red Hook, New York, and her honorary son Neil Harvey of Manhattan, Montana; as well as 10 grandchildren, and nine great-grandchildren. She is survived by her first husband, Al Skogen of Ronan. She is also survived by her brother, Bob Funke of Huntsville, Alabama; and her sister, Carol Ruiz of Missoula, as well as many nieces and nephews.
She is preceded in death by her parents; four brothers, Dick, Tom, Jim, and Bill; and two sisters, Elizabeth and Mary Ann; as well as her husband, Roy.
The family would like to thank St. John's Lutheran Ministries, and the wonderful and loving staff at Chapel Court for making her last years so joyful.
In lieu of flowers, please consider donations to Montana Special Olympics, The Wounded Warrior Project, or St. John's Lutheran Ministries.
A celebration of her life and a mass will be held at St. Pius Catholic Church in Billings, on Tuesday, July 3, at 11 a.m.