Polson FC U16 are State Cup Champs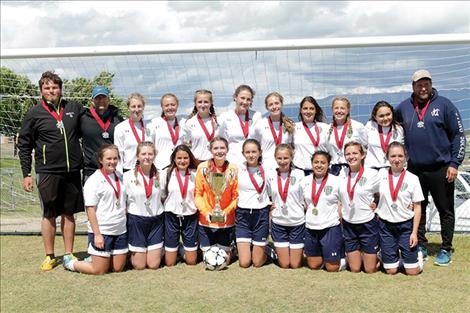 photo courtesy Jess Kittle
KALISPELL – As soccer clubs from around the world gather in Russia vying for the coveted World Cup Championship, a group of Mission Valley soccer players are celebrating a championship of their own.
Recently, the Polson FC U16 girls' soccer team won the Championship in the Gold Division during the Montana Youth Soccer Association State Cup soccer tournament held in Kalispell.
"Winning the state championship this year put an exclamation point on how hard the Polson girls have worked and advanced over the past four years," head coach Jess Kittle said in an e-mail message to the Valley Journal. "In 2015, this team won one game in the whole season, then in 2016 they won the Bronze division at State Cup, followed by a second-place finish in the Silver division in 2017. This year they earned their place in the Gold division and capped it off with a state championship."
In the first game of the tournament, Polson FC finished in a 1-1 tie with Billings United. Polson FC took the lead first in the game using a free kick from Lilly Armstrong. Billings knotted the game at one all with a goal in the final minute of play.
Polson FC won the second game of the tournament 2-1 over the Missoula Strikers, a team that had beaten Polson FC 6-1 earlier in the season.
Within minutes of the kickoff, the Strikers struck early to take a 1-0 lead. Missoula's defense held Polson offense scoreless the whole first half of play.
In the second half, Polson came out with a new resolve and produced an early goal by Ellie Maddy off an Ali Hupka assist.
Polson managed to hold Missoula scoreless the rest of the match thanks to some staunch defenders and an impenetrable goalkeeper in Megan Rost.
Clara Todd recorded the go-ahead goal off a Maddy assist late in the second half giving Polson FC the 2-1 victory over Missoula.
Polson FC finished the tournament tied with Billings with a record of 1-0-1. Tiebreakers during tournament play are decided by goals scored against. So, with fingers crossed the girls waited for the outcome of the Billings versus Missoula game.
Missoula scored a goal in the final minute of play knocking Billings out of the championship game.
In the state championship match up, Polson FC faced Flathead United.
At the thirteenth minute mark, Polson FC scored the first goal on a Todd laser shot to the back of the net. Flathead knotted up the score 1-1 just before time expired in the first half.
Defense on both teams prevailed in the second half and the game ended in a 1-1 tie.
The championship ended in a penalty kick shootout. Shooters Todd, Armstrong, Rost, Hupka, Jazlyn Dalbey, Tia Mercer and Kyla Heiser each netted scores in the penalty kick shootout giving Polson FC the 7-6 shoot-out win and the State Championship.
Results
Polson FC 1 - Billings United 1
Polson - Lilly Armstrong FK (Ellie Maddy) 31:00
Polson FC 2 - Missoula Strikers 1
Polson - Ellie Maddy (Ali Hupka) 36:00
Polson- Clara Todd (Ellie Maddy) 53:00
Championship Match
Polson FC 2 - Flathead United 1
Polson - Clara Todd (Megan Rost) 13:00
PK Shootout
Polson - XXXOXXXX - 7
Flathead - XXXXOXXO - 6