Polson Middle School principal changes schedule, approach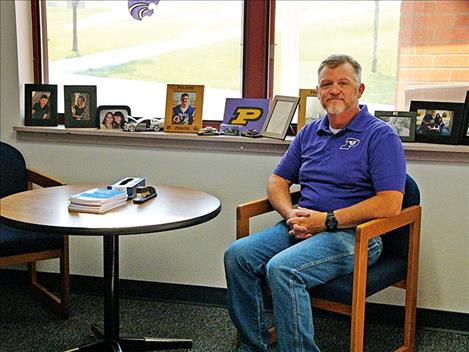 POLSON – Tim Finkbeiner, principal at Polson Middle School, says that in order to guide students through the "roughness" of their pre-teen years, his school needs to be more cohesive – and he's making changes to achieve that cohesion.
Last year was Finkbeiner's first year as the Polson Middle School principal. He had formerly been the principal at Linderman Elementary School in Polson.
Finkbeiner said that he spent his first year identifying areas in the school that could be improved, and that this year he will implement a plan for making the school a place "where children can belong and become."
Schedule
In past years, different grades in the middle school followed different schedules. According to Finkbeiner, this restricted teachers from collaborating.
"This (change) will increase unity," he said.
In the coming school year, all students at the middle school will follow a block schedule. There will be four 86-minute blocks each day. Each student will receive one block of math instruction and one block of English language arts instruction every day. Students will attend either one block of science or one block of social studies each day, alternating between the two.
According to Finkbeiner, this change will increase the amount of time each child spends daily on math and English language arts.
Students will also dedicate one block each day to an "exploratory" class. Instead of choosing electives as they had in the past, each student will rotate through shop class, family and consumer science class, health class, and physical education.
Finkbeiner said that he wanted each student to be exposed to all of the elective classes "so that they can make better choices when they get to high school."
Classroom reconfiguration
The school has also been reconfigured so that the teachers for each subject teach in classrooms located close one another.
In order to do so, 12 teachers moved classrooms over the summer.
Finkbeiner said that the moves would encourage teachers who instruct the same subjects to collaborate. He wants teachers to audit each other's classes and team-teach.
"We want to have teachers supporting teachers," he said.
Approaching teaching as service
Finkbeiner said that he wants teachers and school staff to think of what they do as a service to children and families. He says that teachers serve families and students by preparing students for the world.
"We want to be radical servers," Finkbeiner said. "These families are sending us the best that they've got every day."
He wants families to feel comfortable coming into the school regularly, and participating in the school day along with their children.
In this vein, Finkbeiner said PMS has implemented an "advisory" period, where small groups of seventh and eighth grade students meet with a teacher each morning. The teachers pay attention to each child's grades and behavior, "to make sure that no one is falling through the cracks."
The school will implement restorative practices when it comes to correcting problematic behavior.
Finkbeiner said, "Teachers are working very hard to help children cope with the realities they live with every day."
He said that PMS teachers are dedicated to supporting children academically and emotionally.
As a principal, Finkbeiner said he plans to "rage against" the challenges of middle school to create an environment where students feel that they are supported and they belong. He said he wants Polson Middle School to be a place where students build connections to each other, to their teachers, and to their community.