Trail of Bales decorates Ronan, surrounding areas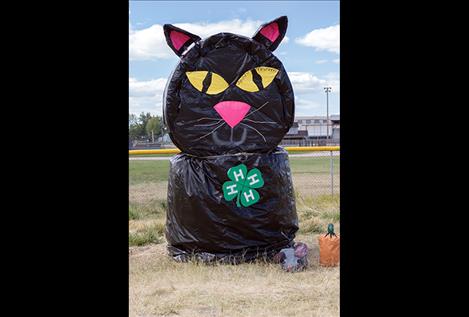 RONAN – Ninety hay bales are being transformed into magical creations of all kinds along U.S. Highway 93 and surrounding areas for the annual Trail of Bales contest, which involves turning a round bale into something grand.
Last year, the Salish Kootenai Housing Authority took first place in the contest with the Smokey Bear and firefighters display. Quicksilver Express took second with a giant cow, and Lynn's Drive-In took third with King Kong.
Lana Bartel, Ronan Chamber of Commerce member and event organizer, said the project has become an annual activity to kick off the fall harvest and bring people together.
The Chamber of Commerce will hold the judging contest from 9 a.m. to 3 p.m. on Saturday, Sept. 15, during the 10th Annual Harvest Fest. Folks are welcome to follow the map of bales before the event, but photos of the bales are also displayed at the Harvest Fest. Anyone is welcome to fill out a ballot and pick a few favorites to help determine the overall winners.
Ronan High School students worked with the chamber for the first time to develop this year's theme. "We've got the students involved," Bartel said. "The theme is 'Where Dreams Come From,' which is also the theme for the high school's homecoming."
John Bartel donated the bales for the event from his farm. Businesses, organizations, and individuals signed up to have the requested number of bales delivered.
Several activities will be set up behind the Ronan Visitor's Center during the Harvest Fest, including: a Dutch Oven Cook off, bouncy house, rock climbing, pumpkin bowling, a petting zoo, antique tractor display (if possible), vendors, and a couple new games. If anyone is interested in participating as a cook or a vendor, call 406-676-8300 for details.