Movin' on!
Polson blanks Belgrade, 1-0, advances to state championship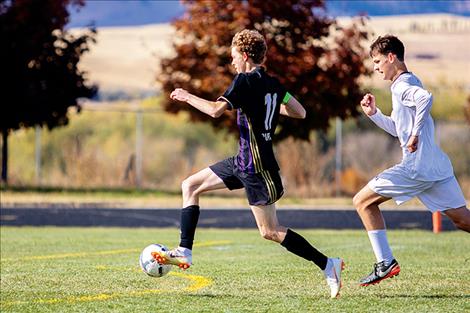 BELGRADE – Robin Erickson put the Pirates on the scoreboard late in the second half, giving Polson all the points they needed to advance to the Class A state championship next Saturday.
Last Saturday's 1-0 win over the Belgrade Panthers was a rematch of last year's semifinals, which Belgrade, two-time defending state champions, won.
Erickson's shot, which found the back of the net off a Mack Moderie assist, avenged last season's semifinal loss and ended the Panthers' bid for a third straight state title and sixth consecutive title appearance. Pirate goalkeeper Kaden Nelson had a stellar game in the box with ten saves.
The Pirates will go on the road to take on the Whitefish Bulldogs on Saturday for the championship.
The game will be Polson's third meeting with their Whitefish rival. The Bulldogs won the first meeting 5-0 in Whitefish, while the match held in Polson ended in an exciting 3-3 draw.
Polson 0 1 — 1
Belgrade 0 0 — 0
P - Robin Erickson (Mack Moderie), 62:00 Shots on goal — Polson 8, Belgrade 15; kicks — Polson 7, Belgrade 6; Keeper saves Polson 10 (Kaden Nelson), Belgrade 6 (Luke Fouls — Polson 8, Belgrade 4; Cards — yellow (Zevam Walker, Bridger Wenzel).