Governor recognizes outstanding student leaders
Jobs for Montana's Graduates students honored for academic achievement, leadership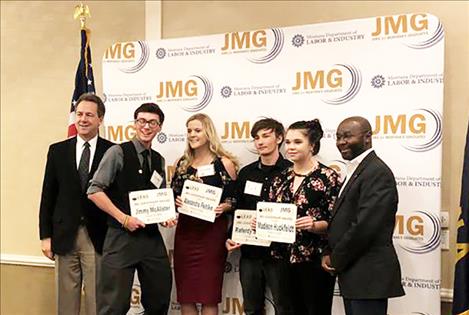 MONTANA – Governor Steve Bullock today recognized high school students for their commitment to academic excellence and leadership development at the Jobs for Montana's Graduates 25th annual LEAD Conference.
"Jobs for Montana's Graduates helps ensure every Montana student, no matter their background, strengths, or learning styles, know that their success matters and that high school graduation is within their reach," Governor Bullock said. "I am humbled to spend time with the students who have made this commitment in their education and in their futures."
Jobs for Montana's Graduates, a Department of Labor and Industry program dedicated to teaching students the skills they need for college or career readiness, hosts the conference each year to meet with public and private business leaders and expand their leadership skills. The 2018 LEAD Conference brought 250 students together from 34 schools across Montana to participate in leadership sessions and engage with fellow students. Students are expected to return home and share what they learned with their local JMG chapter and school.
"The LEAD conference continues to teach our future high school graduates the leadership and career readiness skills they need to be successful in their next step—whether it's continuing their education or entering the workforce," Erica Swanson, State Director of Jobs for Montana's Graduates, said.
Governor Bullock announced four students were selected to represent Montana at the National Student Leadership Academy in Washington, D.C. in November. In addition to seeing the nation's capital, the Montana delegates will attend leadership workshops and participate in national competitions in math, public speaking, project-based learning and employability skills.
About Jobs for Montana's Graduates
Jobs for Montana's Graduates provides students an opportunity to practice decision making, critical thinking, leadership skills, while learning the important soft skills needed for career readiness to gain employment. JMG encourages students to stay in school, graduate and successfully transition from school to employment, post-secondary education, apprenticeship, or military service. The program is funded by the Montana Department of Labor & Industry to support students in connecting with their communities by providing them with leadership development, social and civic responsibility, and career awareness to over 18,000 students.