Polson PGA professional honored with prestigious award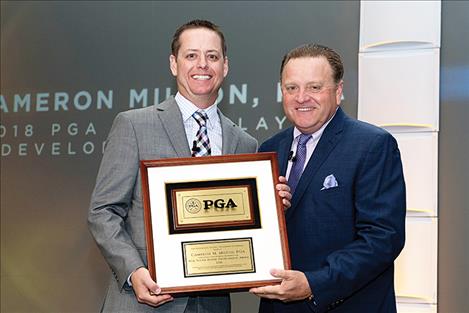 photo by Darren carroll / the pga of america
INDIAN WELLS - Cameron Milton was recently honored with the 2018 Professional Golfers' Association Youth Player Development Award. He is the PGA head golf professional at Polson Bay Golf Course.
"I couldn't be on the stage today if it wasn't for a whole litany of folks back in Polson," Milton said during the award ceremony. "It's an award for the whole town and community as far as I am concerned."
The prestigious national award was presented to Milton alongside the other PGA National Award winners during a ceremony at the 2018 Annual PGA Meeting on Tuesday, Nov. 6, in Indian Wells, CA.
According to a press release by the PGA, this honor recognizes a PGA professional who has displayed extraordinary and exemplary contributions and achievement in the area of youth player development.
The press release also noted that Milton is widely recognized for creating an inclusive environment at Polson Bay by developing and implementing youth programming that both alleviates financial barriers and encourages kids from all backgrounds to experience the game.
Milton's deep passion for junior golf has opened new doors for boys and girls throughout the area. He established the Mission Valley Junior Golf Association, a non-profit, and was instrumental in launching the Golf in Schools program, which introduces the game to more than 400 middle school kids in Polson each year.
Under Milton's direction, the PGA Junior League has grown 650 percent in three years at Polson Bay. In addition, he offers a lineup of impactful programs for kids and families to enjoy the game, such as the annual Polson Bay Junior Camp, which offers more than 120 juniors three free days of learning and play.
Milton has been a PGA member for 10 years and has served as past president of the Pacific Northwest PGA Section's Western Montana Chapter and is a three-time recipient of the Pacific Northwest PGA Section Youth Player Development Award.
"Words can't express how awesome this week was, so many people have helped along the way, for which, I will forever be grateful," Milton wrote in a tweet posted on Saturday.