St. Luke pairs bingo with breast health education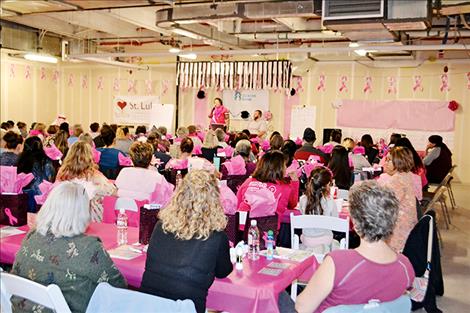 News from St. Luke Community Healthcare
RONAN – On Oct. 24, a group of community members filled St. Luke Community Healthcare to eat dinner with friends, win prizes and learn about maintaining good breast health. The third annual Bingo for Breast Health attracted over 130 women and men.
Dian Hickather, head mammographer, organized the event. She said the event filled a need in the St. Luke community.
"I thought, 'How do we teach people why mammography and breast health is so important?'" she said. "This helps people get some information so they understand a little bit about it."
Hickather said structuring the night around bingo gives women a chance to socialize while engaging with information about their health. The promise of prizes and a meal, provided by St. Luke, also attracted guests to the event.
Bingo for Breast Health featured dinner, dessert and five games of bingo. Between games, speakers informed attendees about the importance of breast health. Those in attendance won an array of prizes from hand-decorated pumpkins to wine-and kitchen-themed baskets.
Hickather said the most powerful part of the program was the testimony from breast cancer survivors. "I think anybody who sits and listens can learn something from them," she said. All cancer survivors in attendance were recognized and given boas to wear for the duration of the event.
Hickather said the survivors' courage inspired other attendees. "It's not just about survival­; it's about heart," she said.
Hickather said the most important breast health advice is that women should regularly examine their own breasts. According to Hickather, those who are familiar with the feel of their breasts will likely find abnormalities that may be signs of breast cancer.
When the free event started in 2016, it was funded by a grant from the Susan G. Komen foundation. St. Luke, along with private sponsors, has funded subsequent bingo nights. Since that first event, attendance has more than quadrupled.
Women can receive screening and diagnostic mammograms in the imaging department. Patients can also visit St. Luke's "mammo techs" to learn how to do effective self-examinations. Those interested in getting a mammogram or learning more about breast health can contact the St. Luke diagnostic imaging department at 406-528-5272.