Working together is a 'big dill' for Polson pickleball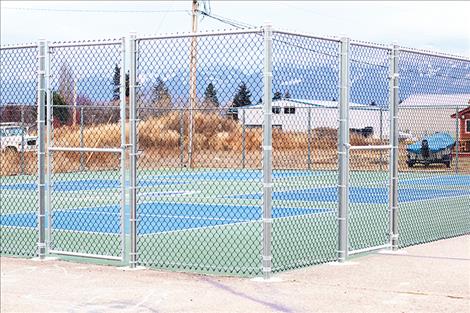 POLSON – The Polson Parks and Recreation Department recently held a ceremony to celebrate a project milestone at the pickleball courts located at O'Malley Park.
"It was a cold chilly day but it was a big dill for the Greater Polson Community Foundation, the board members of the Friends of Regional Parks and Trails (FORPaT) and local pickleball enthusiasts to gather and celebrate recent project milestones," according to news from the Greater Polson Community Foundation.
The three newly resurfaced and fenced-in pickleball courts at O'Malley Park came to fruition by the generous grants received from the Greater Polson Community Foundation, Friends of Regional Parks and Trails (FORPaT), Providence St. Joes and the numerous in-kind donations.
The pickleball courts are open daily from dawn until dusk to the public and have already been a popular destination for Mission Valley area pickleball players.
The game of Pickleball combines the elements of badminton, tennis and ping-pong and is quickly becoming a big deal across the nation. Unlike tennis, players play with a paddle and a plastic ball on a court, which is about one-fourth the size of a tennis court and uses a slightly modified tennis net.
Because of this shorter distance, pickleball requires less mobility, giving people of all ages and abilities more opportunities to maintain a rally and react to opponent advances.
Pickleball may be played either indoors or outdoors or as doubles or singles. Many find it to be a great physical workout.
The rules are very simple and the game is easy for beginners to learn, but it can develop into a quick, fast-paced, competitive game for more experienced players.
In 2017, a participant report issued by the Sports and Fitness Industry Association states that there are currently 2.8 million pickleball players in the United States, which is an increase of 12.3 percent since 2016. As a comparison, the number of players only increased 1.8 percent from 2014 to 2015.