Ronan water project surges ahead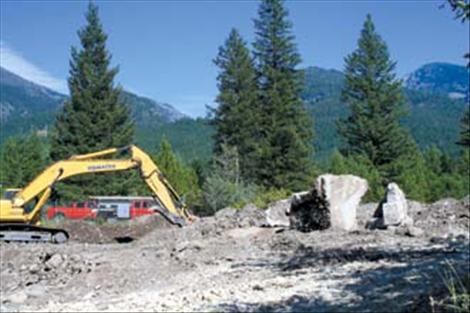 RONAN — In 2008, the Montana Department of Environmental Quality put forth a report stating Ronan did not have enough water storage, fire flow, supply or water treatment to meet regulations. Driven by governing bodies on the state and federal level, Ronan's City Council voted 5-1 in 2008 in favor of the water improvement project.
Project design and construction engineer Shari Johnson has been involved with the project since 2008 and said, "The big question for a small town like Ronan was, 'how can we afford all this?'"
After much paperwork and toil, the city was able to secure $4.85 million in funding from the City of Ronan, loans, the Treasure State Endowment Program, Rural Development, and the Department of Natural Resources.
Labor compliance manager and grant administrator for Ronan's water project, Roland Godan, explained the four-year gap between the original city council vote and groundbreaking as an unfortunate part of the process. Many small towns and cities compete for similar funding on a national level, so securing funds may take some time depending on what stage the legislature is in.
"Even so, the request for proposal goes out as a nationally broadcast item, so it's nice to know that local contractors got these projects ... it's looking out for the interests of our residents here," Godan said.
Last week, Intermountain Construction Services reported that the first in a two-step process to bring Ronan's water system up to code had obtained substantial completion.
Phase one dealt heavily in answering the DEQ's call to upgrade fire prevention and water storage systems by constructing a new well north of the fair grounds, installing a new water storage tank west of the hospital, and a new booster station on Terrace Lake Road. As of Aug. 8, Johnson was happy to report that all components of phase one were online and operational.
"We're all pretty tangible people, so it's nice to see something actually go up as opposed to all the talk, meetings and paperwork," Godan said. "These are some pretty elaborate buildings, and to see them come up and online ... you see all these years of planning come together."
Johnson explained the new tank and well were necessary to increase water flow and supply in the event of a fire in one of Ronan's larger buildings like the high school or hospital.
"Before this project, there wasn't enough water to fight a fire at a big building like that," she said. "We can put out much more water now; those new pumps can run at almost 2,000 gallons per minute."
The booster station on Terrace Lake Road should provide residents on the east end of the road with substantially higher water pressure; something they've been lacking for quite some time.
The successful completion of phase one marks a milestone in bringing Ronan back within state and federal regulations. While all parties seem pleased with the work and progress thus far, they're not done yet; phase 2 is just beginning.
The ozone water treatment station on Michael Road was more than 25 years old. Johnson explained ozone water treatment systems involve a highly intensive and ultimately hazardous process. Ozone gas must be generated at the facility and introduced into the water system to disinfect water of potentially dangerous micro-organisms. However, only a small portion of ozone is actually absorbed into the water, so the majority is off-gassed into the surrounding environment.
As ozone gas is hazardous to humans and the environment, a complicated system of vents, fans and collection devices must be used to catch off-gassed ozone. In short, Johnson said the system, facility, and technology was dangerous, outdated, and difficult to maintain.
Phase two began last week when crews demolished the old ozone plant and began installing a new ultraviolet light system. Johnson explained the new system bombards surface water with UV-rays emitted at a preset wavelength. When these rays come in contact with a dangerous micro-organism, they scramble the cell's DNA on a molecular level. This kills and deactivates the organism, rendering it incapable of transmitting disease while adding only a small amount of chlorine to the water supply. The new treatment process creates safe drinking water while preserving the water's taste.
If everything goes as planned, phase two should be completed before winter, "but if winter comes early or we run into unforeseen issues, it might be next spring," Johnson said.
But wait, there's more.
In the midst of groundbreaking and obtaining funding, the EPA and DEQ created a new set of regulations in 2010 and 2011. These new regulations require a filtration plant be built in addition to the new treatment plant. Johnson estimates this build could cost an additional $2 million.
These regulations are released by the EPA on a national level rather than by region. This means the standards on which the new rules are based reflect areas with exceedingly low water quality. Ronan does not have this issue.
While the new treatment plant was built assuming a filtration plant addition, "There's a consensus that it's not necessary. The water quality coming in far exceed what the filtration system would seek to accomplish," Godan said.
The town is pushing back against the new EPA regulations and local EPA officials are understanding of the concerns, recognizing the water quality is better in Ronan. Even so, they do not have the resources to change law at a federal level.
Ronan Mayor Kim Aipperspach said the biggest problem with Ronan's water is that it is simply too clean to test. The particulate content of Ronan's water supply is so low that the DEQ does not have equipment capable of testing it, so they have difficulty proving quality.
"We're still trying to fight it. When phase two is complete and everything is taken care of, we'll sit down with (the DEQ and EPA) and have another conversation about it," Aipperspach said.
"I don't want the people to think the city is doing these things just because," Johnson said. "It's all regulation driven. They have to."