Eileen Waugh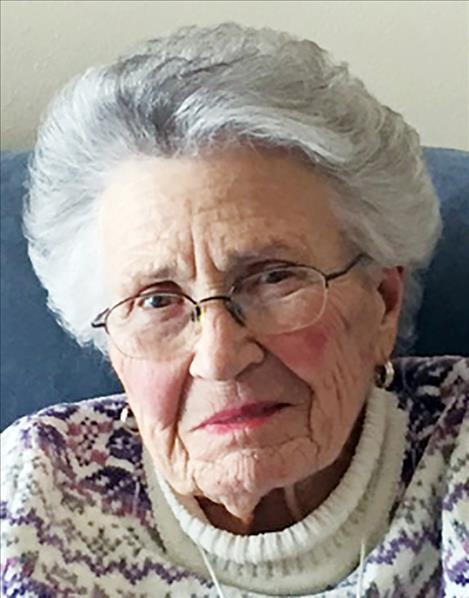 BUTTE — Eileen Estelle Waugh passed away on Monday, Nov. 19, 2018, in St. James Healthcare in Butte. She was born on Wednesday, Jan.2, 1929, in Bakersfield, California, to Frank Guy and Mabelle Estelle (Stonehocker) Parker. She was raised and educated in Ronan and it was there on Aug. 25, 1946, that she and Roy Dennis Waugh were united in marriage. The family settled in Butte in 1950 and together they had three daughters.
Eileen worked and retired as a clerk and mail handler for the United States Post Office. Eileen and Denny loved to travel and were members of the Good Sam's Club. She also belonged to the Butte-Silver Bow Chapter of the National Association of Retired Federal Employees. Besides traveling, Eileen enjoyed golfing, bowling, reading, singing and flower gardening, especially orchids, and would often present friends and loved ones with beautifully tied orchid corsages and boutonnieres. She also made and decorated cakes for all occasions.
Eileen is survived by her daughters and sons-in-law: Diane and Walter Czachorowski of Clinton Corners, New York, Chris and John White of Fort Meyers, Florida, and Gail and Dennis O'Farrell of Anchorage, Alaska; her grandchildren: Angela Huffman, Andrew Czachorowski, Jennifer Parker, Bart Stuart, Shane O'Farrell, Mandy Curry and Justin O'Farrell. Also surviving are 16 great-grandchildren; her brother and sister-in-law, Glen and Jill Parker of Lehi, Utah; her sister, Vivian Aylesworth of Ronan and numerous nieces and nephews.
Roy preceded her in death on Sept. 28, 2004.
Memorials in memory of Eileen may be made to the Bagdad Shrine Transportation Fund, 314 W. Park, Butte, MT 59701.