Doris Polinsky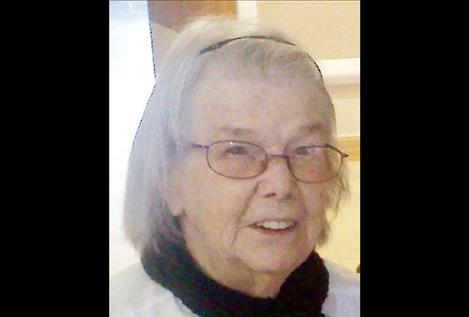 MISSOULA — Doris Ruth (Laws) Polinsky "The Afghan Lady" passed away at Riverside Nursing home in Missoula on Feb. 13, 2019. She was born to Frank E. Laws and Bessie (Hastings) Laws on March 13, 1917, in Gresham, Nebraska.
Doris married Frank Polinsky on Nov. 26, 1934, and they had five children that they raised in Missoula. In 1976 Frank and Doris moved to Post Creek bringing two of their granddaughters (Lyndie Gladden and Jodie Paxton) with them to raise. Doris loved ranch life, she had a milk cow, a garden and loved to pick rocks and change pipes.
Family meant everything to her, and she spent many hours teaching her grandchildren to read, crochet, cook, bake, and play games like Canasta, Chinese Checkers and Aggravation. Doris was a Jehovah's Witness and the St. Ignatius congregation was her second family. She loved to knit and crochet and made 100's of afghans for baby, graduation and wedding gifts. If you were lucky enough to get one, you were very special to her.
Doris was preceded in death by her husband, Frank Polinsky and her sons: Frank H. Polinsky (Rosemary Polinsky), Donald "Steve" Polinsky (Mary Polinsky), and John Polinsky.
She is survived by her daughter, Elizabeth "Betty" Miles; her son, Louis Polinsky; 13 grandchildren, 24 great-grandchildren, and 11 great great-grandchildren. There will be no funeral at this time, but a family gathering is planned for later.