Snowpack below normal despite extreme February snowfall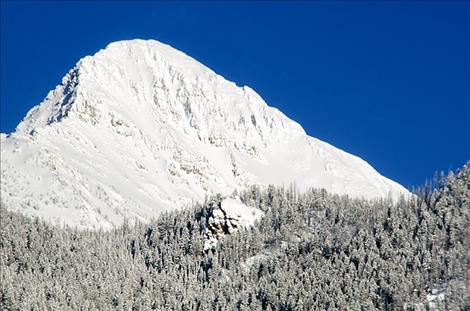 LAKE COUNTY – Last week's snowfall closed schools and created treacherous driving conditions, but up in the mountains snow accumulation is still below average.
As of March 3, the Flathead Basin received just 91 percent of its normal snowpack for the season. This was despite significant snow accumulation throughout the previous week.
According to Confederated Salish and Kootenai Tribal Hydrologist Casey Ryan, February's snowfall events bolstered a snowpack that was well below average in January.
Ten inches of snow fell in Polson between Feb. 24 and Feb. 26. Winter snowfall hit even harder further south. Hamilton reported 25 to 36 inches of snowfall, and Missoula reported 11.3 inches. On Mon. Feb 25, Missoula broke a 100-year-old snowfall record with 8.6 inches of snow. The largest amount previously recorded on that day was eight inches in 1917. Snow continued to fall through the end of the week in Missoula with 3.2 inches falling on Wednesday and .8 inches on Thursday.
Ryan said the Flathead Indian Reservation typically receives the bulk of its snowfall from January to March, but last week's storms were significant compared to the events he usually expects this time of year.
"These events have helped us chase normal snowpack," Ryan said. He said the influx of snow has created dangerous backcountry conditions. He advised skiers to heed avalanche warnings. The storm rounded out what Ryan called "an extremely memorable February."
The National Weather Service reported that this February saw the most snow on record in Kalispell, and only one other year has seen higher snowfall recorded in Missoula.
The low temperatures last month were also an anomaly. In Kalispell, the average temperature for the month was 14.2 degrees less than normal. Ryan said these conditions could be attributed to the polar vortex, which is an expanse of cold air located around the North Pole. The air mass expands during the winter and creates cold, wet conditions in North America like those we saw last week.
Below-average snowfall is consistent with the El Nino weather conditions that were forecasted this year, Ryan said. El Nino brings on below-average precipitation, and above average temperature in Northwest Montana. The National Oceanic and Atmospheric Administration recently issued an El Nino advisory after observing sea-surface temperatures that indicate El Nino was present and will continue through the spring.
According to Ryan, there will likely be below-average temperatures and about average snowfall for the next month. Spring and summer temperatures, also affected by El Nino, will likely be above average this year, Ryan said.
As the snow melts this spring, environmental conditions depend on a number of factors, including the rate at which temperatures rise. He said that whether flooding occurs this year as the snow melts in the mountains "is really anybody's guess." High temperatures in spring and early summer can result in rapid melting of snow. This could cause drier conditions later in the summer.
Ryan said looking further into the future, toward wildfire season, he's most concerned about flash droughts. The "unusual" phenomenon occurs when precipitation stops suddenly, for a significant time. Flash droughts have occurred the last two years, and the warm, dry conditions forecasted for this summer could indicate that flash droughts are on the horizon. Prolonged periods without precipitation — last summer the area went over a month without rain — can amplify the impacts of wildfires. "Those wildfire events which are common and a normal part of the climate around here can become very intense," he said.
In the short term, according to Ryan, we will likely see below-average temperatures and about average snowfall over the next month.
Cold temperatures will persist into this week due to an arctic front that moved into the region last weekend. Cold air has settled in the valleys, driving temperatures down. "Don't put away your winter coat just yet," Ryan warned.