Fundraising for student photography trip underway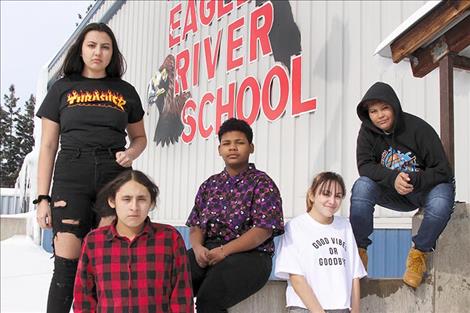 PABLO – Between classes, five teenagers met to discuss the upcoming trip for their photography class. When told they would fly to New Mexico by airplane, all five glanced up in unison; some giddy, others nervous. Only one member of the group has traveled by air before.
Starting Sept. 15, Two Eagle River School photography students will spend eight days traveling New Mexico. They will visit the Institute of American Indian Arts, collaborate with a New Mexico high school photography class and create photographs of a landscape they haven't even begun to imagine.
Photography teacher David Spear said the rich colors and the "incredible" light in New Mexico would make great subjects for their photos. The group will explore a wide swath of New Mexico, including Taos, Santa Fe, and Las Cruces.
The group, which includes 15 students and several chaperones, must raise $40,000 in order to take the trip. Spear, who has secured a small portion of the funding, said the full cost will need to be covered by fundraising efforts as students are not required to contribute financially to the trip.
Funds raised will cover all costs, including airfare, lodging, transportation and meals. The students will be involved in fundraising, by selling Indian tacos for example, to help raise monies.
TERS school board members Leanne Cutfinger and Shelly Fyant will travel to New Mexico with the students along with four other TERS staff members. Fyant is also a Confederated Salish and Kootenai Tribal Council member.
Most students were primarily excited about the opportunity to see a new place.
"I haven't really left the state, and travel is one of my goals," ninth grader Michael Bolen said. "We're lucky." Bolen looks forward to the opportunity to take photos in an unfamiliar landscape and meet students from New Mexico.
The students will have the opportunity to visit a Native American community, also called a Pueblo.
"I'm excited to see the people's ways [of life] – what they do to get by," eighth grader Heather Atwin said.
Spear said he chose the students who will go on the trip because they have embraced the medium of photography to express themselves.
Spear is the director of the nonprofit program called Art Vision & Outreach In Community Education and has been collaborating with TERS to provide photography education for students for 18 years. The central goal of A VOICE is to engage TERS students by documenting their culture and community. Spear endeavors to help build his students' self-esteem and prepare them for their post-graduation careers.
He said he hopes the trip will give his students an idea of where their photography could take them. The photography program at IAIA could be an option for students who want to pursue further education in the arts after high school. Students will also add to their photography portfolios on the trip, preparing them to market their skills as photographers in the future.
A message from the students on their GoFundMe page reads: "This trip is not a vacation, but a deep dive into the world of professional photography in a new cultural context."
Donations to help the students with their project can be made online at gofundme.com/two-eagle-river-schoolnm-trip-of-a-lifetime or at the Two Eagle River School.