Women 4 Wellness planning underway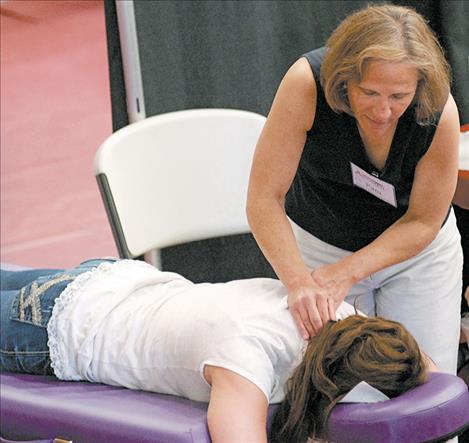 PABLO – Whether time constraints, fear or cost have prohibited you from pursuing healthcare, it's time to schedule a day off from work to attend the annual Women 4 Wellness health fair. The event organizers have found ways to eliminate almost all barriers to women pursuing healthcare.
This year the event will be held on May 23 from 10 a.m. to 4:30 p.m. at the Salish Kootenai College Joe McDonald Health and Fitness Center and Camas Room.
Event co-organizer Niki Graham said the day allows women, who are often busy caring for others, to focus on themselves. She said the event fills a need. "It was clear that there was nothing in our region that focused directly on healthcare for girls or women," she said.
The fair cuts out much of the inconvenience of attaining healthcare. Healthcare providers are stationed at the fair and attendees simply walk up and receive care. There are no appointments, no insurance paperwork and no waiting room. Attendees only have to take one day off of work to see an array of healthcare specialists. The event is completely free of charge.
Graham said the group atmosphere allows women to empower one another to pursue healthcare that they might otherwise put off or ignore.
"Sometimes people are scared or don't want to know the results of a test," Graham said. "They come with their family and their sisters or aunties or whoever it might be to give them the strength to ask questions and go through the screening at the fair," Graham said.
This will be the 11th annual Women 4 Wellness health fair. The event got its start from funding from the national Office on Women's Health. At that time, the event focused on reproductive health, but it has grown in size and scope. Now, according to its mission statement, the event aims to "increase health awareness and healthy behaviors among women of the Flathead Indian Reservation and Lake County."
Last year, more than 1,300 people attended the event. "We had no idea we'd be filling the gym and Camas Room," Graham said. The event isn't just for women. Men are welcome to take part.
Graham says the event will address women's health from "head to toe." While the exact program for the fair has not been finalized, attendees can expect that breast and cervical exams will be offered. Other medical services provided will likely include blood draws, checks for diabetes, and EKGs. Medical professionals can check those in attendance for skin cancer and varicose veins. In recent years mental health has become a central focus of the event. Mental health professionals can assess an attendee's psychological wellbeing and can respond immediately to those who are in mental health emergencies.
Screenings at the event have detected life-threatening physical and mental health problems, leading treatment in a number of cases. "We know we have saved lives," Graham said.
Other, less medical offerings include bra fittings and vendors who will sell jewelry, crafts and food. Graham anticipates there will be about 120 vendors at the event. Concessions will be available, provided by Little Montana.
Women 4 Wellness is solely funded by sponsors, in-kind donations and donations from attendees. Graham estimates that local hospitals and CSKT Tribal Health together spend about $200,000 on the event. Local healthcare providers donate their services for the day.
Graham suggests that each participant make a $5 donation or bring food for the food bank. Donations ensure that the event can continue in the future.
Graham said attendees should not fast before the health fair — the exams provided do not require fasting. She recommends wearing comfortable clothes and walking shoes.
Those interested in attending should pre-register online after April 26. Event organizers are urgently looking for volunteers to help run the event. It takes more than 100 volunteers to facilitate the event. Volunteers can sign up on the registration website. Event organizers are also looking for vendors to sign up on the website at w4w.skc.edu.