Former MAC pitcher is national player of the week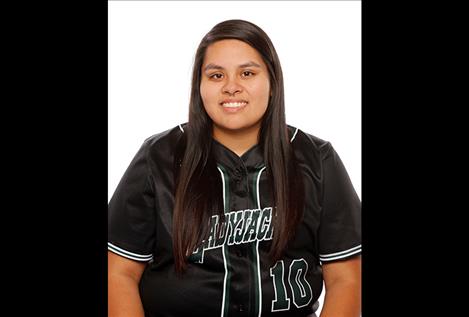 Dakota College at Bottineau Athletic Department
BOTTINEAU – Ran'Dee Charlo has been named the MonDak Player of the Week and NJCAA Pitcher of the Week for the Dakota College at Bottineau Ladyjacks.
Charlo, a former Mission-Arlee-Charlo Lady Bulldog standout pitcher and current college student, has been exceptional as of late for the Ladyjacks in the pitcher circle. Over the past week, Charlo pitched in 14 innings covering two games and struck out 29 batters. Her 9.71 strikeouts per seven innings lead in scores across the nation.
While the MonDak Player of the Week is a regional award, the NJCAA Pitcher of the Week is a national weekly award.
Also last week, Charlo helped her team with her bat going five for eight at the plate. Charlo will be back in the circle on Friday, as she and the Ladyjacks host the Region XIII Sub-Regional against rivals North Dakota State College of Science.