Ten Polson athletes sign to play college sports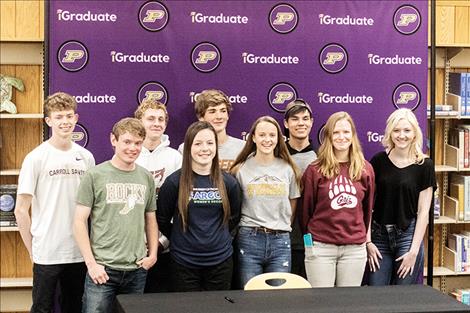 POLSON – In a ceremony held in the school's library, ten Polson High School student athletes made their college commitments public by signing letters of intent Wednesday evening.
Beatrix Frissell signed with the University of Montana for track and cross country. Frissell's high school running career has been decorated with awards. She won the 2017 and 2018 Class A state cross country championship, finished as the 2018 Class A state champion in both the 1600 and 3200, holds numerous school records and several other accolades.
Two members of the Pirate boys soccer team made their decisions public. Robin Erickson signed with Carroll College, and Mack Moderie signed with Willamette University in Salem, Oregon.
Erickson, a two-time all-state and all-conference selection, scored 20 goals and had 19 assists in the 2018 season.
Moderie paced the state during the 2018 season, scoring 30 goals in Class A soccer action. Moderie was named all-state and all-conference twice. He also lettered four times in soccer and was named team captain twice.
Lady Pirate soccer standout Ashlee Howell signed with the University of Providence in Great Falls. Howell finished her Lady Pirate soccer career by winning the Lady Pirate Award and serving as team captain twice. Howell also won team MVP honors twice, all-state accolades three times and all-conference honors four times.
Cross country runner Molly Sitter signed with the University of Wyoming. In cross country, Sitter earned all-state honors three times and all-conference four times. She picked up all-state accolades twice and all-conference honors three times in track.
Jonah DuCharme signed with Dawson Community College for track and cross country. DuCharme earned cross country varsity letters three times and twice in track.
Quin Stewart, 2018 Class A 800-meter state champion, will continue his running career at Rocky Mountain College in Billings.
Andrey Bauer signed his letter of intent to compete on the sports shooting team for Iowa Western Community College in Council Bluffs, Iowa. Bauer plans to study industrial maintenance.
Golfer Matt Hobbs signed with Montana Tech. Hobbs finished in second place at the 2018 Class A state golf championship and won three all-state titles.
Two-time cheer captain Alexia Biederman will take her school spirit to the University of Montana Western in Dillon. Biederman's cheer honors include first place in the 2017 national championships and a section on the cheer squad for the 2019 East-West Shrine Game.