Ronan student wins prestigious title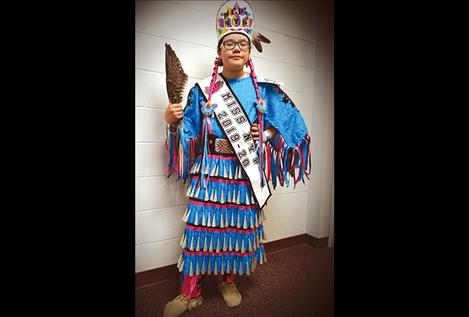 News from Ronan School District
RONAN – Ronan Middle School student Luliana Brown has won the Missoula County Public School's Native Youth Powwow Princess.
Luliana is excited to carry this title due to her love of helping and encouraging younger generations. She has danced since she could walk and loves it. She dances all three possible categories for her age, which includes junior girl's jingle, fancy and traditional.
Luliana understands the importance and significance of each dance as well as their origins. She carries this knowledge with pride and strives to uphold the values of respect, honor and pride.
In order to compete for this title, Luliana had to sell raffle tickets, deliver a speech, bring awareness to the MCPS Powwow and be an upstanding role model.
Contestants are judged on dancing and participation in grand entry and intertribal. Each category was judged and included in her final point accumulation, which led to her princess title.
Now that she represents this title, she is to attend as many powwows and gatherings as she can to represent that powwow and her people. She needs to continue to learn and share her knowledge of her language and culture. Luliana's title also requires that she maintain her status as a positive and respectful role model.
When Luliana was very small, she had a dream that she danced at the powwow and healed all the elderly and sick people. She has taken this dream and combined it with hard work to earn her title. She has been working toward this achievement for about four years; it took a lot of failing and not giving up. Luliana relied heavily upon her positive attitude, family and culture as she persevered. We are very proud of her accomplishment and the young lady she has become.