Players to honor Syvrud's love of music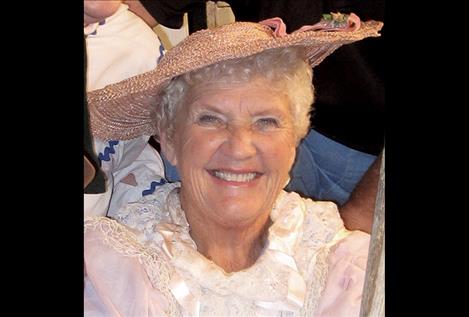 News from Port Polson Players
June Syvrud played Dolly in the 1996 Port Polson Players production of Hello Dolly. June passed away in September of 2017, but her love of music will live on through a scholarship fund to be set up in June's name. The grant will accommodate students in any musical discipline, vocal or instrumental, who wish to go for teaching or performance degrees, to any accredited music school of their choice.
To kick off this scholarship tribute, Port Polson Players have organized a special concert for Saturday, June 1, at Polson's beautiful Theatre on the Lake. The public is invited to attend one of two performances at 2 p.m. or 7:30 p.m. that day. A celebration of June Syvrud's life and musical contributions will feature songs from many of the musicals June performed in. A cast of fifteen fellow actors will sing cuts from Hello Dolly, Oklahoma, The Taffetas and The Sound of Music, to name a few of the shows showcasing June's talents.
Kyle Stinger, Megan Gran and Mike Lozar will salute her memory with songs she taught them as students. The trio joins pianist Beth Rowley, June's husband Bob Syvrud, and fellow actors Cathy Gillhouse, Bob and Marty Mazurek, Neal and Karen Lewing, Amy Knutson, Rick Schoening, Lisa Rochin, John Mercer, and Shellie Winebrenner.
No reservations for the concert are needed; the event is festival seating, first come first served. A freewill offering is suggested, with all funds going directly into the scholarship fund. This event honoring June's memory promises to be a lively, fast-paced, inspirational and educational evening, and a ton of fun. For more information, please the Port Polson Players box office at 406-883-9212.