Tar Wars poster winners announced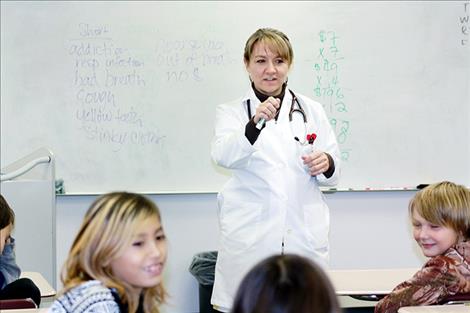 News from Lake County Public Health Tobacco Prevention & Education Program
LAKE COUNTY – Tar Wars is a national tobacco-free education program from the American Academy of Family Physicians, designed for fourth through sixth-grade students. The program consists of a one-hour presentation given by volunteer healthcare professionals and educators.
Dr. Cara Harrop is Lake County's healthcare volunteer, and the Lake County Public Health Tobacco Prevention and Education Program facilitates her speaking engagements. This year marks Harrop's 15th year speaking to students in Lake County. All fifth graders in Arlee, Charlo, Polson, Ronan and St. Ignatius public schools had the opportunity to hear Harrop speak this year and then had the chance to participate in a follow-up poster contest with 265 students participants.
Lake County ReACT students (a student organization Against Corporate Tobacco) and Lake County Public Health employees judged the poster contest. A county champion, first runner up, and second runner up were chosen, as well as a champion from each town.
This year's 2019 Lake County Tar Wars Poster Champion is Madeline Duffey from Ronan Public Schools. The first runner up is Xander Becker from the Polson Public School and second runner up is Mataya Stevens from Ronan Public School.
The Arlee champion is Reece, the Charlo champion is Shaedon Perry, Polson's champion is Xander Becker, Ronan's champion is Madeline Duffy and the St. Ignatius champion is Wyatt Lammers.